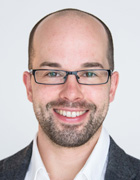 Prof. Dr. Matthias J. Feige
Academic Career and Research Areas
Prof. Feige (*1979) pursues an interdisciplinary approach to address fundamental questions in cellular protein biochemistry: how do cells control that the proteins they produce are correctly structured? How is it ensured that defective proteins are recognized and degraded instead of having potentially harmful effects on the organism? Which molecules and mechanisms underlie this molecular quality control? For these questions, the laboratory of Prof. Feige focusses on medically relevant proteins of the human immune and nervous system so that insights into the principles of cellular quality control can ultimately be translated into new biomedical and biotechnological applications.
Professor Feige studied biochemistry at ETH Zurich and TUM, from where he received his doctorate in 2009. After working as a postdoctoral research fellow in the laboratory of Professor Linda Hendershot at St. Jude Children's Research Hospital in Memphis, TN, USA, he was appointed as a Rudolf Mößbauer Tenure Track Assistant Professor of Cellular Protein Biochemistry at the TUM Department of Chemistry in 2014.
Awards
European Research Council (ERC), ERC Consolidator Grant (2022)
German Bioregions, Innovation Prize of the German Bioregions (for the most innovative Bio-patent of the last year in Germany) (2019)
Rainer-Rudolph-Preis, Rainer Rudolph Stiftung (2012)
Management Engineers Presidential Award; Management Engineers und TUM (2011)
Hans Fischer Preis, Hans Fischer Gesellschaft (2010)
Key Publications
Hildenbrand K, Bohnacker S, Menon PR, Kerle A, Prodjinotho UF, Hartung F, Strasser PC, Catici DAM, Rührnößl F, Haslbeck M, Schumann K, Müller SI, da Costa CP, Esser-von Bieren J, Feige MJ: "Human interleukin-12α and EBI3 are cytokines with anti-inflammatory functions". Science Advances, 2023; 9:43.
Abstract
Zanotti A, Coelho JPL, Kaylani D, Singh G, Tauber M, Hitzenberger M, Avci D, Zacharias M, Russel RB, Lemberg MK, Feige MJ: "The human signal peptidase complex acts as a quality control enzyme for membrane proteins". Science, 2022; 378(6623):996-1000.
Abstract
Müller SI, Friedl A, Aschenbrenner I, Esser-von Bieren J, Zacharias M, Devergne O, Feige MJ: "A folding switch regulates interleukin 27 biogenesis and secretion of its alpha subunit as a cytokine". Proc Natl Acad Sci USA, 2019; 116(5):1585-1590.
Abstract
Feige MJ, Hendershot LM: "Quality control of integral membrane proteins by assembly-dependent membrane integration". Mol Cell. 2013; 51(3): 297-309.
Abstract
Feige MJ, Groscurth S, Marcinowski M, Shimizu Y, Kessler H, Hendershot LM, Buchner J: "An unfolded CH1 domain controls the assembly and secretion of IgG antibodies". Mol Cell. 2009; 34(5): 569-579.
Abstract