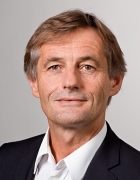 Academic Career and Research Areas
The Chair of Professor Dietrich Fink (b. 1958) is concerned with all design aspects of the conditions of contemporary architecture.The integration and controllability of all parameters affecting architectural design is the central focus of research and teaching.
The main activities are based on the development of future-proof urban concepts, and in particular the investigation of sustainable densification strategies and the development of innovative building concepts in interdisciplinary cooperation within TUM.
Professor Fink studied architecture at TUM. In 1991, after a period spent as a senior researcher at TUM's Institute of Urban and Regional Planning, he and Thomas Jocher founded Fink+Jocher, a Munich-based company that has received numerous national and international awards. After his professorship at TU Berlin in 1999, he succeeded Professor Uwe Kiessler at TUM in 2004. Between 2006 and 2009 he was Dean of the Department of Architecture. Professor Fink is a member of the German Academy for Town and Regional Planning (DASL), the Association of German Architects (BDA) and the Bavarian Academy of Fine Arts.
Awards
Benedictus Award Washington
German Architecture Award
German Steel Construction Award
Concrete Architecture Award
German Facade Award
Fink, D; u.a. (Hg.): "Architects on Architects". Hirmer. 2019.
Abstract
Fink D (Editor): "Paris Häuser der Stadt 1900-1935". Rosa Reihe Bd.7. Tübingen/Berlin: Ernst Wasmuth Verlag, 2017.
Abstract
Fink D: "Die dichte Stadt". Der Architekt – Vielfalt der Dichte. 2017; 5:44-46.
Abstract
Fink D, Nerdinger W: "Die Tradition von Morgen. Architektur in München seit 1980". Editor: Technische Universität München und Bayerische Akademie der Schönen Künste. München: Schirmer Mosel, 2012.
Abstract
Fink D: "Mehr Dichte! Plädoyer für ein Wachstum nach Innen". In: 70 Jahre Südhausbau. Editor: Ottmann GmbH & Co. Südhausbau KG. 2007; 178-187.
Abstract