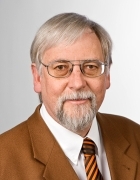 Prof. Dr. Anton Fischer
Professorship
Geobotany
Professor emeritus since October 1, 2018
Academic Career and Research Areas
Prof. Fischer (b. 1953) and his team research all aspects of vegetation, from the human level through plant communities to global distribution, with the focus on forestry. Special attention is paid to the dynamics of vegetation, in particular the sequence of processes in plant populations. These result either in a new generation of individual plants being established (e.g. following a bark beetle attack or storm damage) or entirely new species combinations (e.g. primary succession and the consequences of global climate change). Practical implementation is also examined – for example, the reforestation of devastated areas – as well as nature conservation and ecotourism.
Prof. Fischer studied biology and chemistry and completed his doctorate on geobotany at the University of Freiburg (1980). He completed his lecturer qualification in 1987 at the Institute of Plant Ecology at the University of Giessen. In 1987, he became professor of geobotany at the Forestry Faculty of Munich´s Ludwig Maximilian University (LMU). When this faculty was moved to TUM in 1999, he continued in his previous position. He is a member of several scientific organizations and has co-edited a number of journals. In addition, he established the partnership between TUM and the Northwest University of Agriculture and Forestry in China. Prof. Fischer became Head of the Center of Forestry in Freising in 2009.
Key Publications
Cheng CG, Fischer A, Herrmann W, Yang PH: Flora of the Loess Plateau in Central China – a field guide. IHW-Verlag, 2007.
Fischer A: Forstliche Vegetationskunde: Eine Einführung in die Geobotanik. 3. Aufl. Stuttgart: Ulmer, 2003.
Fischer A, Lindner M, Abs C, Lasch P: "Vegetation dynamics in Central European forest ecosystems (near-natural as well as managed) after storm events". Folia Geobotanica. 2002; 37: 17-32.
Abstract
Fischer A: "Long term vegetation development in Bavarian mountain forest ecosystems following natural destruction". Vegetatio. 1992; 103(2): 93-104.
Abstract
Fischer A: "Mosaik und Syndynamik der Pflanzengesellschaften von Lößböschungen im Kaiserstuhl (Südbaden)". Phytocoenologia. 1982; 10: 73-256.