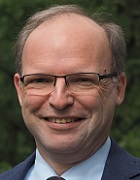 Prof. Dr. Roland A. Fischer
Academic Career and Research Areas
Prof. Roland A. Fischer's (*1961) field of research is inorganic and organometallic synthetic chemistry. He is interested in the development of multifunctional supramolecular materials, e.g. metal-organic frameworks (MOFs) and intermetalloid clusters (superatoms), with potential applications for chemical energy storage and conversion, for catalysis, sensor technology, photonics and in microelectronics.
He studied chemistry at TUM and received his doctorate (1989) under Prof. Wolfgang A. Herrmann. Postdoctoral studies at the University of California at Los Angeles (1990) were followed by habilitation at TUM (1995). He was a professor at the University of Heidelberg (1996-1997) and at the Ruhr University Bochum (1997-2015). He has held the Chair of Inorganic and Organometallic Chemistry at TUM since 2016 and has been Academic Director of the Central Institute for Catalysis Research since 2018. From 2016 to 2021, he was Vice President of the German Research Foundation.
Awards
Honorary doctorate of the Ruhr University "Dr. phil. h.c." (2018)
Alfried Krupp Award for young University Professors (1996)
Karl-Winnacker Fellowship (1995)
Heinz Maier-Leibnitz Award (1993)
Dissertation Award, TUM (1989)
Schütz M, Gemel C, Muhr M, Jandl C, Kahlal S, Saillard J-Y, Fischer RA: "Exploring Cu/Al cluster growth and reactivity: From embryonic building blocks to intermetalloid, open-shell superatoms". Chem. Sci. 2021; online.
Abstract
Li W-J, Xue S, Watzele S, Huo S, Fichtner J, Semrau AL, Zhou L, Well A, Bandarenka AS, Fischer RA: "Advanced Bifunctional Oxygen Reduction and Evolution Electrocatalyst Derived from Surface-Mounted Metal-Organic Frameworks". Angew. Chem. Int. Ed. 2020; 59: 5837-5843.
Abstract
Mayer DC, Manzi A, Medishetty R, Winkler B, Schneider C, Kieslich G, Pöthig A, Feldmann J, Fischer RA: "Controlling Multi-Photon Absorption Efficiency by Chromophore Packing in Metal-Organic Frameworks". J. Am. Chem. Soc. 2019; 141: 11594-11602.
Abstract
Jayaramulu K, Dubal D, Nagar B, Vaclav R, Tomanec O, Petr M, Datta KKR, Zbroil R, Gómez-Romero P, Fischer RA: "Ultrathin Hierarchical Porous Carbon Nanosheets for High-Performance Supercapacitors and Redox Electrolyte Energy Storage". Adv. Mater. 2018; 30: 1705789.
Abstract
Medhishetty R, Nalla V, Nemec L, Henke S, Mayer D, Sun H, Reuter K, Fischer RA: "A New Class of Lasing Materials: Intrinsic Stimulated Emission from Nonlinear Optically Active Metal–Organic Frameworks". Adv. Mater. 2017; 29: 1605637.
Abstract