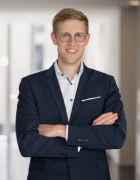 Academic Career and Research Areas
Prof. Dr. Jens Foerderer's (1989) research seeks to support managers in creating value with digital technologies, particularly by providing empirical evaluations. His research field is information systems, especially digital platforms, multi-sided markets, and ecosystem-based business models, network effects, data-driven business models, monetization of digital content, as well as the economics of privacy.
His research has been published in the leading journals of the field, including multiple times in Management Science and Information Systems Research. His research has received several awards, including the INFORMS Information Systems Research Best Paper of the Year Award. Jens Foerderer's work is funded by several organizations, including the German Research Foundation (DFG). He serves as reviewer for leading scientific journals as well as funding organizations, including Management Science and the German Research Foundation (DFG), as Associate Editor for Business and Information Systems Engineering (BISE), and as expert for the media and organizations, including Handelsblatt, ZEIT and acatech.
Jens Foerderer studied Business and Information Systems at the University of Mannheim (B.Sc. 2011, M.Sc. 2013). Graduate studies at the Graduate School of Economic and Social Sciences (GESS) as well as Research and Teaching Assistant at the University of Mannheim and the software company SAP. Graduation with a Dr. rer. pol. (business) in 2017, University of Mannheim. Thereafter, Assistant Professor (no tenure track / Habilitand) at the University of Mannheim. Since 2019 Assistant Professor (tenure track) at the Technical University of Munich.
Foerderer J: "Interfirm Exchange and Innovation in Platform Ecosystems: Evidence from Apple's World Wide Developers Conference". Management Science; 66 (10).
Abstract
Foerderer J, Kude T, Mithas S, Heinzl A: "Does Platform Owner's Entry Crowd Out Innovation? Evidence from Google Photos". Information Systems Research, 2018; 29 (2).
Abstract
Foerderer J, Kude T, Mithas S, Schuetz SW, Heinzl A: "Knowledge Boundaries in Enterprise Software Platform Development: Antecedents and Consequences for Platform Governance". Information Systems Journal. 2019; 29 (1).
Abstract
Foerderer, J., Lueker, N., Heinzl, A.: "And the Winner is ..? The Desirable and Undesirable Effects of Platform Awards". Information Systems Research. 2021; 32 (4).
Abstract
Foerderer, J., Schuetz, S.W.: "Data Breach Announcements and Stock Market Reactions: A Matter of Timing? Management Science". 2022; in press.
Abstract