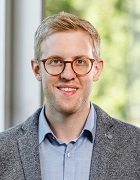 Academic Career and Research Areas
Jens Förderer's research focuses on the economics of platforms – one of the key implications of the digitalization. The concept of a platform is quite simple: A company provides a software platform as the infrastructure on which other companies can develop and commercialize complementary products and services. Platforms are changing the market conditions across industries, especially in the fields of mechanical engineering and software development. For firms, they give rise to many new questions: How can firms attract other firms to their own platform? How can innovation be encouraged within the ecosystem? How can firms without platforms protect themselves from similar competitors with platforms? In his research, Jens Förderer investigates different approaches to the management of digital platforms.
Jens Förderer has been Assistant Professor of Innovation and Digitization at TUM School of Management since 2019. He studied Business Informatics (Wirtschaftsinformatik) at the University of Mannheim Business School. He received his PhD in Business (Dr. rer pol.) from the University of Mannheim Business School and completed a graduate doctoral program at the Graduate School of Economic and Social Sciences (GESS) of the University of Mannheim. Afterwards, he held a position as a non-tenure-track Assistant Professor (Habilitand) at the University of Mannheim Business School. During this time, he served as coordinator of ForDigital, a research alliance between Karlsruhe Institute of Technology (KIT) and the University of Mannheim focused on understanding the consequences of the digitalization.
Awards
Best Paper of the Year Award of the journal Information Systems Research
Doctoral scholarship, German Research Foundation (DFG)
International Doctoral Fellowship, German Academic Exchange Service (DAAD)
Bronnbacher Scholarship, Kulturkreis der deutschen Wirtschaft im BDI e.V. (Association of Arts and Culture of the German Economy at the Federation of German Industries e.V.)
Foerderer J: "Interfirm Exchange and Innovation in Platform Ecosystems: Evidence from Apple's World Wide Developers Conference". Management Science; 66 (10).
Abstract
Foerderer J, Kude T, Mithas S, Heinzl A: "Does Platform Owner's Entry Crowd Out Innovation? Evidence from Google Photos". Information Systems Research, 2018; 29 (2).
Abstract
Foerderer J, Kude T, Mithas S, Schuetz SW, Heinzl A: "Knowledge Boundaries in Enterprise Software Platform Development: Antecedents and Consequences for Platform Governance". Information Systems Journal. 2019; 29 (1).
Abstract
Foerderer J, Schill L: "Design-Thinking-Programme Erfolgreich Umsetzen". Wirtschaftsinformatik & Management, 2018; 10 (3).
Abstract