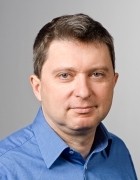 Prof. Dr. Dmitrij Frishman
Academic Career and Research Areas
The group of Professor Frishman (b. 1961) develops bioinformatics algorithms and software to support high-throughput biological research at the intersection of structural genomics and proteomics. He is particularly interested in the evolution, structural diversity, and interactions of transmembrane proteins. Other research directions include bioinformatics of viruses, evolution of mRNAs, and cancer informatics.
Professor Frishman studied Biomedical Electronics at the Saint Petersburg Electrotechnical University (1984) and received a PhD in Biochemistry from the Russian Academy of Sciences (1991). Supported by a Humboldt Fellowship, he pursued postdoctoral research at the Biocomputing Department of EMBL in Heidelberg (1991–1996). He subsequently joined the Munich Information Center for Protein Sequences as a senior scientist and later became Deputy Director of the Institute for Bioinformatics at the German Research Center for Health and Environment. In 1997, he co-founded Biomax Informatics AG. Professor Frishman was appointed to TUM in 2003.
Qi F, Motz M, Jung K, Lassak J, Frishman D: "Evolutionary analysis of polyproline motifs in Escherichia coli reveals their regulatory role in translation". PLoS Comput Biol. 2018; 14(2):e1005987.
Abstract
Hönigschmid P, Frishman D: "Accurate prediction of helix interactions and residue contacts in membrane proteins". J Struct Biol. 2016; 194(1):112-123.
Abstract
Frishman D, Albermann K, Hani J, Heumann K, Metanomski A, Zollner A, Mewes HW: "Functional and structural genomics using PEDANT". Bioinformatics. 2001; 17(1):44-57.
Abstract
Frishman D, Mewes HW: "Protein structural classes in five complete genomes". Nature Struct. Biol. 1997; 4: 626-628.
Abstract
Frishman D, Argos P: "Knowledge-based secondary structure assignment". Proteins. 1995; 23: 566-579.
Abstract