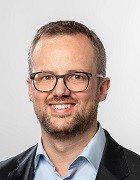 Prof. Dr. Magnus Fröhling
Academic Career and Research Areas
Professor Fröhling develops quantitative approaches for the analysis, assessment and planning of circular economy and bioeconomy systems, including technologies for recycling and biomass conversion, as well as biorefineries, production and recycling networks and global material cycles.
Professor Fröhling studied industrial engineering and management at Karlsruhe University. In 2005, he received his PhD for a thesis on material flow-based production planning in process industries. He established a mainly third-party-funded research group at Karlsruhe University and obtained his post-doctoral teaching qualification (Habilitation) in 2011 at the Karlsruhe Institutue of Technology (KIT) with his thesis on resource and energy efficiency in industrial value chains. In 2015, Magnus Fröhling was appointed as professor of Business Administration, esp. Resource Management at TU Bergakademie Freiberg. In 2018, he joined TUM as professor of Circular Economy at the TUM Campus Straubing for Biotechnology and Sustainability.
Breun P, Fröhling M, Zimmer K, Schultmann F: "Analyzing investment strategies under changing energy and climate policies: an interdisciplinary bottom-up approach regarding German metal industries". Journal of Business Economics. 2017; 87(1): 5-39.
Abstract
Zimmer K, Fröhling M, Schultmann F: "Sustainable Supplier Management – A Review of Models Supporting Sustainable Supplier Selection, Monitoring and Development". International Journal of Production Research. 2016; 54(5): 1412-1442.
Abstract
Fröhling M, Schwaderer F, Bartusch H, Schultmann F: "A material flow-based approach to enhance resource efficiency in production and recycling networks". Journal of Industrial Ecology. 2013; 17(1): 5-19.
Abstract
Fröhling M, Schwaderer F, Bartusch H, Rentz O: "Integrated Planning of Trans¬por¬tation and Recycling for multiple Plants based on Process Simulation". European Journal of Operational Research. 2010; 207(2): 958-970.
Abstract
Fröhling M, Rentz O: "A Case Study on Raw Material Blending for the Recycling of Ferrous Wastes in a Blast Furnace". Journal of Cleaner Production. 2010; 18(2): 161-173.
Abstract