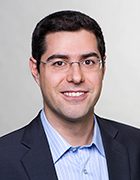 Prof. Dr. Alessio Gagliardi
Academic Career and Research Areas
Professor Gagliardi's research focuses on the development and application of numerical models to simulate nanostructured devices, in particular, new solar cells (organic semiconductors, perovskite based), electrochemical systems (nanostructured cathodes for fuel cells) and organic semiconductor materials. The development of new models spans from nanoscale (Density Functional Theory, Quantum Green functions) to mesoscale (Kinetic Monte Carlo) and the macroscopic (Drift-diffusion). He also develops TiberCAD and GDFTB software. His most recent research concerns multiscale modeling for organic semiconductors and the use of machine/deep learning approaches to material science.
After studying engineering at the University of Rome Tor Vergata (Italy), Professor Gagliardi received his doctorate in physics from the University of Paderborn in 2007. He later worked as a postdoctoral researcher at the Bremen Center for Computational Material Science and in Rome, before being appointed tenure track assistant professor at TUM in 2014.
Lederer J, Kaiser W, Mattoni A, Gagliardi A: "Machine Learning–Based Charge Transport Computation for Pentacene". Advanced Theory and Simulations. 2018; 1800136-1800146.
Abstract
Rück M, Bandarenka A, Calle-Vallejo F, Gagliardi A: "Oxygen Reduction Reaction: Rapid Prediction of Mass Activity of Nanostructured Platinum Electrocatalysts". The journal of physical chemistry letters. 2018; 9(15): 4463-4468.
Abstract
Albes T, Gagliardi A: "Charge Pair Separation Dynamics in Organic Bulk‐Heterojunction Solar Cells". Advanced Theory and Simulations. 2018; 1800032.
Abstract
Gagliardi A, Abate A: "Mesoporous Electron Selective Contacts Enhance the Tolerance to Interfacial Ions Accumulation in Perovskite Solar Cells". ACS Energy Letters. 2017; 12: 1-20.
Abstract
Schulze G, Franke KJ, Gagliardi A, Romano G, Lin C, Da Rosa A, Niehaus TA, Frauenheim Th, Di Carlo A, Pecchia A, Pascual JI: "Resonant Electron Heating and Molecular Phonon Cooling in Single C60 Junctions". Physical Review Letter. 2008; 100: 136801.
Abstract