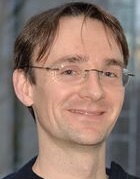 Academic Career and Research Areas
Professor Gagneur's research focuses on delineating the genetic basis of gene regulation and its implication in diseases. To this end, he is developing statistical and machine learning algorithms and works with experimentalists to design novel experimental approaches. Together with Dr. Holger Prokisch (TUM School of Medicine), his group is also developing strategies to pinpoint the cause of genetic disorders by integrating data from genetics and "multiomics" disciplines such as transcriptomics and proteomics.
Julien Gagneur studied Applied Mathematics at École Centrale Paris and Machine Learning at the École Normale Supérieure de Cachan (France). He received his PhD in Applied Mathematics in 2004 from the École Centrale Paris (France) for his work performed in the Heidelberg-based biotech companies Lion Bioscience and Cellzome AG. Professor Gagneur then joined the Genome Biology department of European Molecular Biology Laboratory (EMBL) in Heidelberg. He assumed a group leader position at the Gene Center of the Ludwig-Maximilians-Universität in Munich in 2012. In 2016, he accepted an appointment as Assistant Professor for Computational Biology at the TUM.
Kremer L et al: "Genetic diagnosis of Mendelian disorders via RNA sequencing". Nature Communications. 2017.
Abstract
Schwalb et al.: "TT-seq maps the human transient transcriptome". Science. 2016.
Abstract
Gagneur J, Stegle O, Zhu C, Jakob P, Tekkedil MM, Aiyar RS, Schuon AK, Pe'er D, Steinmetz LM: "Genotype-environment interactions reveal causal pathways that mediate genetic effects on phenotype". PLoS Genet. 2013; 9(9): e1003803.
Abstract
Bauer S, Gagneur J, Robinson PN: "GOing Bayesian: model-based gene set analysis of genome-scale data". Nucleic Acids Res. 2010; 38(11): 3523-3532.
Abstract
Zinzen RP, Girardot C, Gagneur J, Braun M, Furlong EE: "Combinatorial binding predicts spatio-temporal cis-regulatory activity". Nature. 2009; 462(7269): 65-70.
Abstract