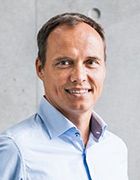 Academic Career and Research Areas
The research work of Professor Gerhard (b. 1968) explores how pathogens interact with the host in gastrointestinal infections. Professor Gerhard's research group investigates the mechanisms that suppress the immunoresponse of the host to allow the occurrence of infection as well as inflammatory factors involved in the development of cancer.
Professor Gerhard studied medicine in Heidelberg and Hamburg from 1988 to 1996. He earned his MD in 1996 (summa cum laude). From 1997 to 2004 he completed his medical training leading to German medical board certification in internal medicine in the Department of Internal Medicine (II. Medizinische Klinik) at Klinikum rechts der Isar. From 2004 to 2006 he worked at the Netherlands Institute for Developmental Biology in the research group of Professor Hans Clevers. From 2006 he headed a research group in the Department of Internal Medicine (II. Medizinische Klinik) at Klinikum rechts der Isar, where he also acquired his postdoctoral teaching qualification (habilitation) in internal medicine in 2009. In 2010 he was appointed associate professor of medical microbiology and immunology at the Institute for Medical Microbiology and Immunology, a unit within TUM.
Awards
DZIF Prize for Translational Infection Research (2015)
2nd place in the Munich Business Plan Competition (2013)
Werner-Creutzfeldt Research Fellowship, German Society for Gastroenterology, Digestive and Metabolic Diseases (DGVS) (2006)
Bavarian Habilitation Award (2003)
Award of the European Helicobacter pylori Study Group (2000)
Hornburg D, Kruse T, Anderl F, Daschkin C, Semper RP, Klar K, Guenther A, Mejías-Luque R, Schneiderhan-Marra N, Mann M, Meissner F, Gerhard M: "A mass spectrometry guided approach for the identification of novel vaccine candidates in gram-negative pathogens". Sci Rep. 2019; 9(1): 17401.
Abstract
Guo Y, Zhang Y, Gerhard M, Gao JJ, Mejias-Luque R, Zhang L, Vieth M, Ma JL, Bajbouj M, Suchanek S, Liu WD, Ulm K, Quante M, Li ZX, Zhou T, Schmid R, Classen M, Li WQ, You WC, Pan KF: "Effect of Helicobacter pylori on gastrointestinal microbiota: a population-based study in Linqu, a high-risk area of gastric cancer". Gut. 2020; 69(9): 1598-1607.
Abstract
Mejias-Luque, R., J. Zoller, F. Anderl, E. Loew-Gil, M. Vieth, T. Adler, D.B. Engler, S. Urban, J.L. Browning, A. Muller, M. Gerhard*, and M. Heikenwalder*: "Lymphotoxin beta receptor signalling executes Helicobacter pylori-driven gastric inflammation in a T4SS-dependent manner". Gut. 2017; 66:1369-1381.
Abstract
Javaheri A, Kruse T, Moonens K, Mejías-Luque R, Debraekeleer A, Asche CI, Tegtmeyer N, Kalali B, Bach NC, Sieber SA, Hill DJ, Königer V, Hauck CR, Moskalenko R, Haas R, Busch DH, Klaile E, Slevogt H, Schmidt A, Backert S, Remaut H, Singer BB, Gerhard M: "Helicobacter pylori adhesin HopQ engages in a virulence-enhancing interaction with human CEACAMs". Nat Microbiol. 2016; 2:16189.
Abstract
Loregger A, Grandl M, Mejías-Luque R, Allgäuer M, Degenhart K, Haselmann V, Oikonomou C, Pantelis Hatzis, Janssen KP, Nitsche U, Gradl D, van den Broek O, Destree O, Neumaier M, Kalali B, Jung A, Varela I, Schmid RM, Rad R, Busch DH and Gerhard M: "The stem-cell E3 ligase RNF43 displays a novel mode of Wnt inhibition downstream of (mutated) β-catenin, which is disrupted in tumors bearing RNF43 mutations". Science Signaling. 2015;8(393):ra90.
Abstract