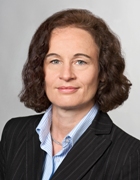 Academic Career and Research Areas
Professor Görlach (b. 1964) explores the biology of oxygen. She investigates the role of hypoxia, reactive oxygen species and oxidative stress in the developing and adult organism. She studies their impact on the pathogenesis of cardiovascular, inflammatory and tumor diseases and translates this into diagnostic and therapeutic options.
Professor Görlach studied medicine in Munich and Bochum, and business administration in Augsburg and Hagen. She completed her doctoral thesis at the Max Planck Institute for Molecular Physiology in Dortmund. Following research at Scripps Research Institute in La Jolla, USA and at the University of Zurich, she acquired her postdoctoral teaching qualification in physiology in 2001 at the Johann Wolfgang von Goethe University in Frankfurt. She subsequently took on the leadership of the Department for Experimental Paediatric Cardiology at the German Heart Centre Munich at TUM. She was guest professor at University of Aix-Marseilles (2009) and has been Principal investigator of the German Center of Cardiovascular Research (DZHK) since 2011. Since 2009, she has been professor for experimental and molecular pediatric cardiology at TUM.
Awards
Otto Hahn Medal for outstanding scientific achievements, Max Planck Society (1992)
Lederle Award for Biomedical Research (1992)
Nick Mc Nally Award, International Society of tumor hypoxia (1991)
De Castro-Heymans-Neil Preis der Internationalen Gesellschaft für arterielle Chemorezeption (1991)
Key Publications
Zhang Z, Trautz B, Kračun D, Vogel F, Weitnauer M, Hochkogler K, Petry A, Görlach A: "Stabilization of p22phox by Hypoxia Promotes Pulmonary Hypertension". Antioxid Redox Signal. 2019 Jan 1; 30(1): 56-73.
Abstract
Petry A, Zhang Z, Trautz B, Rieß F, Görlach A: "Cross Talk Between p22phox and ATF4 in the Endothelial Unfolded Protein Response". Antioxid Redox Signal. 2019 Jan 1; 30(1): 40-55.
Abstract
Rzymski T, Petry A, Kračun D, Rieß F, Pike L, Harris AL, Görlach A: "The unfolded protein response controls induction and activation of ADAM17/TACE by severe hypoxia and ER stress". Oncogene. 2012 Aug 2; 31(31): 3621-34.
Abstract
Diebold I, Petry A, Hess J, Görlach A: "The NADPH oxidase subunit NOX4 is a new target gene of the hypoxia-inducible factor-1". Mol Biol Cell. 2010 Jun 15; 21(12): 2087-96.
Abstract
Diebold I, Djordjevic T, Petry A, Hatzelmann A, Tenor H, Hess J, Görlach A: "Phosphodiesterase 2 Mediates Redox-Sensitive Endothelial Cell Proliferation and Angiogenesis by Thrombin via Rac1 and NADPH Oxidase 2". Circ Res. 2009; 104(10):1169-77.
Abstract