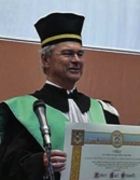 Prof. Robert K. Grasselli
Research Areas
Der herausragende, vielfach für den Nobelpreis vorgeschlagene Chemiker trägt seit seinem Aufenthalt als Alexander von Humboldt-Preisträger in München (1995-1999) zur Katalyseforschung an der Technischen Universität München bei. Seine bahnbrechenden Arbeiten zur katalytischen Partialoxidation von Kohlenwasserstoffen und deren Nutzung in großtechnischen Synthesen machen ihn zum "Urgestein" der weltweiten Katalyse-Community. Robert K. Grasselli ist Forscher und Erfinder: Er hält über 170 US-Patente, darunter die Schlüsselpatente für den von ihm mit seinen Kollegen erfundenen sog. SOHIO-Prozess (Selektive Oxidation und Ammoxidation von Kohlenwasserstoffen). Als unerschöpflicher Quell fundamentalen und angewanten Wissens unterstreicht der äußerst engagierte Wissenschaftler die internationale Sichtbarkeit und Wirkung der Fakultät für Chemie, insbesondere aber des fakultätsübergreifenden TUM Catalysis Research Center.
Academic Career
Robert K. Grasselli studierte Chemie an der Harvard University und promovierte an der Case Western Reserve University, USA (1959). Bereits 1952 wurde er für die Standard Oil Co. (Sohio) tätig. Er erreichte den Rang eines Research Fellows und war bis 1985 Director of Catalysis and Solid State Science. 1986 verließ er Sohio/BP America und trat in das Office of Naval Research (ONR) ein, wo er bis 1989 als Director of the Chemistry Division tätig war. Von 1989 bis 1995 arbeitete Robert Grasselli als Research Scientist bei der Mobil Research and Development Corporation im zentralen Forschungslabor in Princeton. Von 1983 bis 1990 war er (Adjunct) Full Professor of Chemistry an der Case Western Reserve University, USA; und von 1996 an (Adjunct) Full Professor of Chemical Engineering and Materials Science an der Universty of Delaware, USA. Er ist Autor von 175 Patenten und von über 150 wissenschaftlichen Arbeiten. Er ist Mitglied der US National Academy of Engineering, Mitglied der US National Hall of Fame for Engineering, Science and Technology, und Träger einer großen Anzahl von Preisen, u.a. Alexander von Humboldt-forschungspreis; E.V. Murphree Award, Petroleum Chemistry Award, und E. N. Morley Medal, verliehen von der American Chemical Society. In 2008 wurde er mit der Ehrendoktorwürde (Dr. h.c.) von der Universität Bologna ausgezeichnet.
Professor Grasselli ist der Gründer der European Gordon Research Conferences und Sponsor der wissenschaftlichen RKG-Irsee Symposia (Oxidations Katalyse).