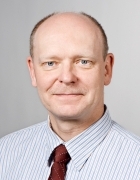 Prof. Dr. Christian Große
Academic Career and Research Areas
Prof. Große's (b. 1961) research area is non-destructive testing. This covers quality assurance, the inspection of building components, plants and buildings. Construction and mechanical engineering are the main sectors concerned. The main materials he explores are concrete, metal, stone and composites such as fiber reinforced materials.
Prof. Große studied geophysics (University of Karlsruhe). He did his doctorate and lecturer qualification at the University of Stuttgart. In 2005/2006 he worked as visiting scholar at the University of California at Berkeley. His research area was acoustic emission testing und wireless sensor networks for structural health monitoring. He was then appointed associate director and later provisional director of the material testing laboratory at the University of Stuttgart. In 2010, he was appointed associate professor at TUM. This was a joint appointment of the Departments of Civil Geo and Environmental Engineering and Mechanical Engineering. Since 2011, he has held the Chair of Non-destructive Testing and he has been a member of the board of management of the Center for Building Materials (cbm).
Awards
Elected member in the board of trustees of the Deutsches Museum (since 2018)
Publication Award of the Acoustic Emission Working Group, Princeton, New Jersey, USA (2012)
First "Kiewit Lecture" of the Oregon State University, USA (2006)
Key Publications
Snoeck D, Malm F, Cnudde V, Grosse CU, Van Tittelboom K: "Validation of Self-Healing Properties of Construction Materials through Nondestructive and Minimal Invasive Testing". Advanced Materials Interfaces. 2018; 5(17): 1800179.
Abstract
Grumbein S, Minev D, Tallawi M, Boettcher K, Prade F, Pfeiffer F, Grosse CU, and Lieleg O: "Hydrophobic Properties of Biofilm-Enriched Hybrid Mortar". Advanced Materials. 2016; 28(37): 8138-8143.
Abstract
Große CU, Ohtsu M: Acoustic emission testing in engineering. Heidelberg: Springer, 2008.
Abstract
Große CU, Reinhardt HW, Finck F: "Signal-based acoustic emission techniques in civil engineering". J. Mat. in Civ. Eng. 2003; 15(3): 274-279.
Abstract
Cruz Hidalgo R, Große CU, Kun F, Reinhardt HW, Herrmann H: "Evolution of percolating force chains in compressed granular media". Phys. Rev. Let. 2002; 89(20): 205501/1-205501/4.
Abstract