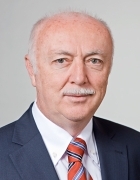 Prof. Dr.-Ing. Willibald A. Günthner
Academic Career and Research Areas
The research conducted in Professor Günthner's department focuses on various aspects of technical logistics. These include the control and optimization of material flow processes by means of innovative identification technologies (RFID), the continued development of logistics planning using digital tools, and the role of humans in logistics. Professor Günthner is particularly interested in the technological transfer of scientifically established results, particularly to small and medium-sized companies. He has set up the Logistics Innovation Center (LIZ) and the Munich RFID User Center (RFID-AZM) at TUM to provide support in this area.
Professor Günthner studied mechanical engineering, industrial science and applied economics at TUM. After receiving a doctorate (1985) from the Materials Handling Department at TUM, he worked in industry as a designer and technical manager for materials handling and material flow at Max Kettner. In 1989 he was appointed to a professorship position in the Materials Handling and Material Flow Department of the University of Applied Science in Regensburg. From 1994 until 2017 he headed the Materials Handling, Material Flow and Logistics Department at TUM.
Key Publications
Günthner W A, ten Hompel M (ed): Internet der Dinge. Springer-Verlag, 2009.
Günthner W A: "Wandlungsfähigkeit - der Weg aus der Krise?". Manufacturing Excellence Report. 2009; 5: 8-13
Günthner W A, Chisu R, Kuzmany F: "Internet der Dinge - Steuern ohne Hierarchie". F+H Fördern und Heben. 2008 Sept: 494-497.
Günthner WA, Blomeyer N: "Dimensioning of vertical screw conveyors". Zeitschrift bulk solids handling. Vogel Transtech Publications. 2008; 01: 20-25.
Günthner W A (ed.): Neue Wege in der Automobillogistik - Die Vision der Supra-Adaptivität. Springer-Verlag, 2007.