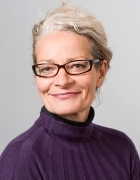 Academic Career and Research Areas
Sculptor Tina Haase (b. 1957) explores the qualities and properties of places, objects and spaces. She examines how the specific physical, visual or sociological context inspires works of art like objets, installations, architectural sculpture, performances and short films. Prof. Haase initially studied German language and literature and pedagogy in Cologne.
From 1979, she studied art at academies in Münster and Dusseldorf, where she was a master student of Fritz Schwegler. Travel bursaries enabled her to work in the USA and Italy. Her work is internationally renowned thanks to regular exhibitions in Germany, Italy, Spain, Belgium, the USA, the Netherlands, Austria and Poland. In addition to her sculptural work, she created a number of short films in the 1980s (Paranose Produktion ) and devised space-oriented choreography in the 1990s. In 2004, she became design lecturer at Niederrhein University of Applied Sciences. In 2007, she became full professor of visual design in TUM's Faculty of Architecture.
Key Publications
Haase T: "Wer macht die Zukunft?" In: Orbitum. Künstlerische Reflexionen über die Forschungsplaneten der TUM. Editors: Haase T, Leinfelder Y. München: TUM.University Press, 2019: 12-15.
Abstract
Haase T: "Spatial Works". In: Tina Haase. Köln: Koenemann, 2019: 60-92.
Haase T: "Wie nimmt eine künstlerische Arbeit Platz?" In: Bauten und Kunst. Technische Universität München 1868 - 2018. Editor: Herrmann WA. München: TUM.University Press, 2018: 362-369.
Abstract
Haase T: "Annäherung an einen unbekannten Ort". In: Heimvorteil. Partizipative Kunstprojekte. Editors: Haase T, Wischnewski S. München: Technische Universität München, Fakultät für Architektur, 2014: 12-15.
Abstract
Haase T: "Wieviel Farbe kannst Du noch ertragen?" In: All Colors Permitted as Long They Don't Interfere with Business. Editor: Atelier 340 Muzeum. Bruxelles: Verlag Galeria BWA w Katowicach, 2008: 49.
Abstract