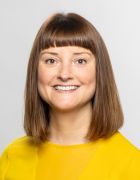 Academic Career and Research Areas
Prof. Hall leads a multi-disciplinary team that is seeking to understand microbiome interactions, at the interface of the gut mucosa. We have a particular focus on the early life developmental window, as pregnancy and infancy, and the microbes that colonise during this time (e.g. Bifidobacterium), coincides with key physiological programming, and is when the foundations of future health are laid down.
Our research programme is organised into 3 themes (i) microbe-diet interactions, (ii) infection resistance, and (iii) microbiota-host cross-talk.
Prof. Hall is the Chair of Intestinal Microbiome at TUM since 2020. She also holds a group leader position at the Quadram Institute, UK and is a Wellcome Trust Investigator. She obtained a BSc in Microbiology from the University of Glasgow, a PhD in Microbiology and Immunology from the University of Cambridge (Wellcome Trust Sanger Institute), and was a postdoctoral fellow at University College Cork, Ireland (APC Microbiome Institute). She was a Senior Lecturer at the University of East Anglia, before moving to Quadram end of 2015.
Awards
Wain Medal Winner (2019)
WH Pierce Prize Winner (2019)
Public Engagement Achievement Award (2019)
Microbiology in Society Winner (2018)
Wellcome Trust Investigator Award (2013)
Alcon-Giner C, Dalby MJ, Caim S, Ketskemety J, Shaw A, Sim K, Lawson M, Kiu R, Leclaire C, Chalklen L, Kujawska M, Mitra D, Fardus-Reid F, Belteki, G, McColl K, Swann JR, Kroll JS, Clarke P, Hall LJ.: "Microbiota supplementation with Bifidobacterium and Lactobacillus modifies the preterm infant gut microbiota and metabolome: an observational study". Cell Reports Medicine. 2020.
Abstract
Lawson MAE/O'Neill IJ, Kujawska M, Wijeyesekera A, Flegg Z, Chalklen L, Hall LJ.: "Breast-milk derived human milk oligosaccharides promote Bifidobacterium interactions within a single ecosystem". ISME J. 2020; 14(2):635-648.
Abstract
Alcon-Giner C/Leggett RM, Heavens D, Caim S, Brook TC, Kujawska M, Hoyles L, Clarke P, Clark MD/Hall LJ.: "Rapid MinION profiling of preterm microbiota and antimicrobial resistant pathogens". Nature Microbiology. 2019.
Abstract
Hughes KR, Harnisch L, Alcon-Giner C, Mitra S, Wright CJ, Ketskemety J, van Sinderen D, Watson AJM, and Hall LJ.:"Bifidobacterium breve reduces apoptotic epithelial cell shedding in an exopolysaccharide and MyD88-dependent manner". Open Biology. 2017; doi.org/10.1098/rsob.160155.
Abstract
Hall LJ/Fanning S, Cronin M, Zomer A, MacSharry J, Goulding D, O'Connell-Motherway M, Shanahan F, Nally K, Dougan G, van Sinderen D.: "Bifidobacterial surface-exopolysaccharide facilitates commensal-host interaction through immune modulation & pathogen protection". PNAS. 2012; 109(6):2108-13.
Abstract