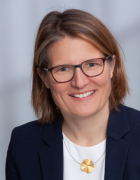 Academic Career and Research Areas
Julia Hauer studied medicine at the Ludwig-Maximilians-Universität München and defended her MD thesis with summa cum laude in immunology. As a postdoc her research focused on gene therapy at the Hôpital Necker, Paris. She continued her clinical training and subspecialisation as pediatric hemato-oncologist at the Heinrich-Heine University Düsseldorf, where she did her habilitations. Before joining TUM, Julia Hauer was associated professor and head of pediatric hematology and oncology at TU Dresden as well as group leader at NCT Dresden.
Julia Hauer investigates the importance of genetic predisposition for the development of childhood cancer with a specific focus on acute leukemia. In addition she investigates the role of environmental exposure in childhood and how the immune system can be modulated to avoid acute leukemia. The aim is to offer preventive measures for children with a risk for cancer. Beyond Julia Hauer is interested in the design of novel therapeutic options and their implementation in clinical treatment.
Awards
German Cancer Aid Excellent funding for established scientists 70114539
ERC Startig Grant "PreventALL" 852222
Scholarship Leopoldina National Academie of science, Halle, Germany (BMBF-LPD99018-149)
Key Publications
Schedel A, Friedrich UA, Morcos MNF, Wagener R, Mehtonen J, Watrin T, Saitta C, Brozou T, Michler P, Walter C, Försti A, Baksi A, Menzel M, Horak P, Paramasivam N, Fazio G, Autry RJ, Fröhling S, Suttorp M, Gertzen C, Gohlke H, Bhatia S, Wadt K, Schmiegelow K, Dugas M, Richter D, Glimm H, Heinäniemi M, Jessberger R, Cazzaniga G, Borkhardt A, Hauer J, Auer F. Recurrent Germline Variant in RAD21 Predisposes Children to Lymphoblastic Leukemia or Lymphoma. Int J Mol Sci. 2022 May 5;23(9):5174.
Abstract
Bhatia, S., Diedrich, D., Frieg, B., Ahlert, H., Stein, S., Bopp, B., Lang, F., Zang, T., Kröger, T., Ernst, T., Kögler, G., Krieg, A., Lüdeke, S., Kunkel, H., Rodrigues Moita, A. J., Kassack, M. U., Marquardt, V., Opitz, F. V., Oldenburg, M., Remke, M., … Hauer, J. (2018). Targeting HSP90 dimerization via the C terminus is effective in imatinib-resistant CML and lacks the heat shock response. Blood, 132(3), 307–320.
Abstract
Martín-Lorenzo A, Hauer J, Vicente-Dueñas C, Auer F, González-Herrero I, García-Ramírez I, Ginzel S, Thiele R, Constantinescu SN, Bartenhagen C, Dugas M, Gombert M, Schäfer D, Blanco O, Mayado A, Orfao A, Alonso-López D, Rivas Jde L, Cobaleda C, García-Cenador MB, García-Criado FJ, Sánchez-García I, Borkhardt A. Infection Exposure is a Causal Factor in B-cell Precursor Acute Lymphoblastic Leukemia as a Result of Pax5-Inherited Susceptibility. Cancer Discov. 2015 Dec;5(12):1328-43.
Abstract