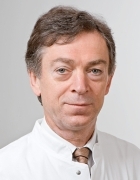 Academic Career and Research Areas
Since 2003, Prof. Hauner (b. 1955) has been Director of the Else Kröner Fresenius Center for Nutritional Medicine, with locations at TUM's Klinikum Rechts der Isar and the Weihenstephan Center of Life and Food Sciences. His research explores diet-related chronic diseases such as obesity and type 2 diabetes. He also focuses on nutrition during pregnancy and fetal programming, functional genomics of risk genes for obesity and type 2 diabetes and the development of new nutrition concepts.
Prof. Hauner studied medicine at the University of Regensburg and TUM. Following his postdoctoral training at the University of Regensburg's Chair of Biochemistry, Microbiology and Genetics, he did an internship at the University of Ulm, specializing in endocrinology/diabetology. After that, he became senior consultant of the clinical department of the German Diabetes Center at Heinrich-Heine University, Dusseldorf. In 2003, he accepted the newly-created Chair of Nutritional Medicine at TUM. Prof. Hauner has been a member of the German Academy of Sciences (Leopoldina) since 2003 and was the spokesman for the nation-wide compentence network "Obesity" (funded by the Federal Minitry of Education and Research/BMBF) from 2008 to 2015. Since 2015, he has been the spokesman for the BMBF-funded competence cluster of nutrition research enable.
Awards
Friedrich-Wassermann-Award of the European Association for the Study of Obesity (2021)
DAG Medal of the German Adiposity Society (2015)
Key Publications
Claussnitzer M, Dankel SN, Quon G, Kim K-H, Meuleman W, Haugen C, Glunk V, Puviindran V, Abdennur NA, Liu J, Svensson P-A, Hsu Y-H, Mellgren G, Hui C-C, Hauner H, Kellis M: "Causal FTO obesity circuitry and adipocyte browning in humans". The New England Journal of Medicine. 2015; 373: 895-907.
Abstract
Claussnitzer M, Dankel SN, Klocke B, Grallert H, Glunk V, Berulava T, Lee H, Oskolkov N, Fadista J, Ehlers K, Wahl S, Hoffmann C, Qian K, Rönn T, Riess L, Müller-Nurasyid M, Bretschneider N, Skurk T, Horsthemke B, DIAGRAM consortium, Spieler D, Klingenspor M, Seifert M, Kern MJ, Mejhart N, Dahlmann I, Hansson O, Hauck SM, Blüher M, Arner P, Groop L, Illig T, Suhre K, Hsu Y-H, Mellgren G, Hauner H, Laumen H: "Leveraging cross-species transcription factor binding site patterns: from diabetes risk loci to disease mechanisms". Cell. 2014; 156(1-2): 343-358.
Abstract
Arner P, Bernard S, Salehpour M, Possnert G, Liebl J, Steier P, Buchholz PA, Ryden M, Arner E, Hauner H, Skurk T, Frayn KN, Spalding KL: "Different adipose lipid turnover dynamics in lean and obese subjects". Nature. 2011; 478(7367): 110-113.
Abstract
Jebb S, Ahern AL, Olson AE, Aston LA, Holzapfel C, Stoll J, Amann-Gassner U, Simpson AE, Fuller NR, Pearson S, Lau NS, Mander AP, Hauner H, Caterson IA: "Primary care referral to a commercial provider for weight loss treatment, relative to standard care: an international randomized controlled trial". The Lancet. 2011; 378(9801): 1485-92.
Abstract
Skurk T, Alberti-Huber C, Herder C, Hauner H: "Relationship between adipocyte size and adipokine expression and secretion in human adipose tissue". Journal of Clinical Endocrinology and Metabolism. 2007; 92: 1023-1033.
Abstract