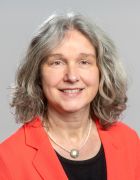 Apl. Prof. Dr. Brigitte Helmreich
Academic Career and Research Areas
The research interests of Professor Helmreich lie in the monitoring of stormwater pollution and sustainable urban stormwater management including development of stormwater treatment devices. She also works in industrial wastewater treatment and reuse. Her research work is conducted using laboratory and full-scale systems in close collaboration with companies, other universities and water authorities.
Professor Helmreich studied chemistry at TUM from 1984 to 1990. She received her PhD from the Faculty of Chemistry at TUM in 1992 before joining the Chair of Urban Water Systems Engineering (TUM) where she was initially laboratory manager. Since 1997, she has focused on research and teaching. In 2010, she completed her Habilitation. In 2013, she was appointed to an adjunct professorhip at TUM.
Vega-Garcia P, Schwerd R, Scherer C, Schwitalla C, Johann S, Rommel SH, Helmreich B: "Influence of façade orientation on the leaching of biocides from building façades covered with mortars and plasters". Science of The Total Environment. 2020; 734(10): 139465.
Abstract
Huber M, Welker A, Helmreich B: "Critical review of heavy metal pollution of traffic area runoff: Occurrence, influencing factors, and partitioning". Science of The Total Environment. 2016; 541: 895-919.
Abstract
Rajab M, Heim C, Letzel T, Helmreich B: "Electrochemical disinfection using boron-doped diamond electrode - the synergetic effects of in situ ozone and free chlorine generation". Chemosphere. 2015; 121(1): 47-53.
Abstract
Helmreich B, Hilliges R, Schriewer A, Horn H: "Runoff pollutants of a highly trafficked urban road - Correlation analysis and seasonal influences". Chemosphere. 2010; 80(9): 991-997.
Abstract
Helmreich B, Horn H: "Opportunities in rainwater harvesting". Desalination. 2009; 248(1-3): 118-124.
Abstract