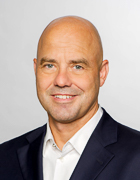 Academic Career and Research Areas
Professor Hild's lectures and articles in scientific journals revolve around the complex relationship between context and contemporary architectural design as well as architectural and urban redevelopment in all its facets. Within the framework of the exterior insulation and finishing system modulation research project his main interest lies in ways of modulating exterior walls by means of temperature sensitive recording procedures".
After studying architecture at ETH Zurich and TUM, Professor Hild (b. 1961) was awarded his degree in Munich in 1989. In 1992 he co-founded architecture firm Hild und Kaltwasser, which has been known as Hild und K Architekten since 1999. He subsequently held visiting fellowships or professorships at the University of Kaiserslautern (1996-1998), Munich University of Applied Sciences (1999-2001), the University of Fine Arts (HFBK) Hamburg (2003-2004), TU Graz (2005-2006) and TU Darmstadt (2008-2009).
Awards
City of Munich Architecture Award (2012)

German "Kritikerpreis" (2007)

German Architecture Prize, Recognition Award (1999)

German Architecture Award for Exterior Walls (1999)

German Urban Development Award (1998)
Original und Fälschung. Zur Neubegründung des Authentischen in der Architektur. Andreas Hild und Andreas Denk im Gespräch. der architekt. 2017; 4/17: 16-23.
Abstract
Hild A: "Umbau und Lehre". der architekt. 2016; 3/16: 52-57.
Abstract
"Umbauen / Weiterbauen. Muck Petzet und Andreas Hild im Gespräch". In: Konservieren, Interpretieren, Transformieren. Erhalten, Deuten und Wandeln von Bauten der Jahre 1950 bis 1975. Editor: Bayerische Architektenkammer. München, 2014: 8-11.
Hild A, Farnoudi F: "Modulationsmöglichkeiten der Gebäudeaußenhaut mittels wärmesensitiver Aufnahmeverfahren". Abschlussbericht Forschungsinitiative ZukunftBau. Stuttgart: Fraunhofer IRB Verlag, 2013.
Abstract
Hild A, Will T: "Theorie und Realität. Briefwechsel zwischen Andreas Hild und Thomas Will". In: Wärmedämmverbundsystem – WDVS. Ein Diskussionsbeitrag von Hild und K. Editor: Schittich C. München: Detail Verlag; 2013.