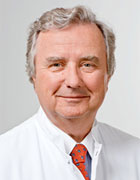 Academic Career and Research Areas
Professor Höfler (b. 1949) has been director of TUM's Institute of General Pathology and Pathological Anatomy and director of the Institute of Pathology of the Helmholtz Center in Neuherberg since 1989.
For many years Professor Höfler was a member of TUM's Academic Senate, dean of TUM's Faculty of Medicine and chairman of the Science and Technology Council of GSF (German Research Center for Environmental Health). He is currently a member of the scientific advisory councils of a number of different foundations and advises the German Research Foundation (DFG) and the German Cancer Aid organization (Deutsche Krebshilfe). He was also president of the German Society of Pathology and of the Society of Histochemistry and editor-in-chief of the scientific journal "Virchows Archiv".
Since 2000 Professor Höfler has been deputy chair of the Sector Committee on Pathology of DAP (German Accreditation System for Testing). In this role he is responsible for the certification standards and processes in pathological institutes.
Key Publications
Walch A, Rauser S, Deininger SO, Höfler H: "MALDI imaging mass spectrometry for direct tissue analysis: a new frontier for molecular histology." Histochem Cell Biol. 2008 Sep; 130(3): 421-34.
Keller G, Langer R, Höfler H: "Therapy related markers and response prediction towards multimodal treatment of carcinomas of the upper gastrointestinal tract." Current Pharmaco-genomics and Personalized Medicine. 2008; 6: 85-96.
Becker KF, Schott C, Hipp S, Metzger V, Por P, Beck R, Nährig J, Becker I, Höfler H: "Quantitative protein analysis from formalin-fixed tissues: implications for translational clinical research and nanoscale molecular diagnosis." J Pathol. 2007; 211(3): 370-8.
Lordick F, Ott K, Krause BJ, Weber WA, Becker K, Stein HJ, Lorenzen S, Schuster T, Wieder H, Herrmann K, Bredenkamp R, Höfler H, Fink U, Peschel C, Schwaiger M, Siewert JR: "PET to assess early metabolic response and to guide treatment of adenocarcinoma of the oesophagogastric junction: the MUNICON phase II trial." Lancet Oncol. 2007; 8(9): 797-805.
Gailus-Durner V, Fuchs H, Becker L, Bolle I, Brielmeier M, Calzada-Wack J, Elvert R, Ehrhardt N, Dalke C, Franz TJ, Grundner-Culemann E, Hammelbacher S, Holter SM, Holzlwimmer G, Horsch M, Javaheri A, Kalaydjiev S, Klempt M, Kling E, Kunder S, Lengger, Lisse T, Mijalski T, Naton B, Pedersen V, Prehn C, Przemeck G, Racz I, Reinhard C, Reitmeir P, Schneider I, Schrewe A, Steinkamp R, Zybill C, Adamski J, Beckers J, Behrendt H, Favor J, Graw J, Heldmaier G, Höfler H, Ivandic B, Katus H, Kirchhof P, Klingenspor M, Klopstock T, Lengeling A, Müller W, Ohl F, Ollert M, Quintanilla-Martinez L, Schmidt J, Schulz H, Wolf E, Wurst W, Zimmer A, Busch DH, de Angelis MH: "Introducing the German Mouse Clinic: open access platform for standardized phenotyping." Nat Methods. 2005; 2(6): 403-404.