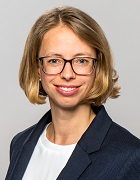 Prof. Dr. Doris Holzberger
Academic Career and Research Areas
Professor Holzberger conducts empirical research into education with a focus on learning and instruction. Adopting a psychological perspective, she examines school conditions and teacher competencies (e.g. teacher motivation and knowledge) as predictors of the quality of teaching. Professor Holzberger utilizes a wide range of methods for her research, from meta-analyses and reviews of existing research to empirical work based on analyses of large-scale data sets and research in experimental settings.
After obtaining a diploma in psychology at the University of Koblenz · Landau, Professor Holzberger completed her doctorate at Goethe University Frankfurt in 2013. She then went on to work as a research associate at the State Institute for School Quality and Educational Research, Munich, and as a postdoc researcher at the Friedl Schöller Endowed Chair for Teaching and Learning Research, TUM School of Education. Doris Holzberger has been Associate Professor of Research on Learning and Instruction at TUM since September 2018.
Awards
Commended PhD Award, "Global SELF Research Network" (2015)
Publication Award (Doctoral Student Category) of the Society for Empirical Educational Research (2015)
Student Research Excellence Award, EARLI-Special Interest Group "Motivation and Emotion" (2011)
Holzberger D, Maurer C, Kunina-Habenicht O, Kunter M: "Ready to teach? A profile analysis on cognitive and motivational-affective teacher characteristics at the end of pre-service teacher education and long-term effects on teachers' occupational well-being". Teaching and Teacher Education. 2021; 100: 103285. (in press)
Abstract
Holzberger D, Reinhold S, Lüdtke O, Seidel T: "A meta-analysis on the relationship between school characteristics and student outcomes in science and math – Evidence from large-scale studies". Studies in Science Education. 2020; 65(1): 1-34.
Abstract
Seidel T, Schnitzler K, Kosel C, Stürmer K, Holzberger D*: "Student Characteristics in the Eyes of Teachers: Differences between Novice and Expert Teachers in Judgment Accuracy, Observed Behavioral Cues, and Gaze". Educational Psychology Review. 2020; 33: 69–89.
Abstract
Holzberger D, Praetorius AK, Seidel T, Kunter M: "Identifying effective teachers: The relation between teaching profiles and students' development in achievement and enjoyment". European Journal of Psychology of Education. 2019; 34(4): 801-823.
Abstract
Holzberger D, Philipp A, Kunter M: "Predicting Teachers' Instructional Behaviors: The Interplay Between Self-Efficacy and Intrinsic Needs". Contemporary Educational Psychology. 2014; 38 (2):100-111.
Abstract