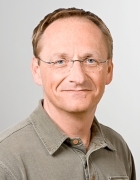 Prof. Dr. Bernhard Holzmann
Academic Career and Research Areas
Professor Holzmann (b. 1959) works in the field of innate immunity. Specifically, he investigates innate immune responses to nucleic acids that serve as endogenous or microbial danger signals, and analyzes mechanisms by which the sensory nervous system controls innate immune responses. He currently focuses on understanding the role of these processes for organ regeneration and carcinogenesis in the liver and the pancreas.
Professor Holzmann studied medicine at LMU Munich. His scientific work took him to Stanford University (Palo Alto, USA) and the Max Planck Institute for Biochemistry (Martinsried). He has worked at TUM since 1991, initially at the Institute for Medical Microbiology, Immunology and Hygiene, then at the Surgical Clinic and Policlinic of Klinikum rechts der Isar. From 1995–2000 he led the DFG Clinical Research Group "Immunosuppression and Postoperative Sepsis". He acted as a spokesperson for DFG Collaborative Research Centre 576 "Facultative Microbial Pathogenicity and Hereditary Immunity" from 2001–2011.
Key Publications
Schulze S, Stöß C, Lu M, Wang B, Laschinger M, Steiger K, Altmayr F, Friess H, Hartmann D, Holzmann B*, Hüser N*: "Cytosolic nucleic acid sensors of the innate immune system promote liver regeneration after partial hepatectomy". Sci. Rep. 2018; 8: 12271. *equal contribution
Abstract
Holtorf A, Conrad A, Holzmann B, Janssen KP: "Cell-type specific MyD88 signaling is required for intestinal tumor initiation and progression to malignancy". Oncoimmunology. 2018; 7: e1466770.
Abstract
Baliu-Piqué M, Jusek G, Holzmann B. "Neuroimmunological communication via CGRP promotes the development of a regulatory phenotype in TLR4-stimulated macrophages". Eur. J. Immunol. 2014; 44: 3708-16.
Abstract
Altmayr F, Jusek G, and Holzmann B. "The neuropeptide CGRP causes repression of TNFα transcription and suppression of ATF-2 promoter recruitment in Toll-like receptor-stimulated dendritic cells". J. Biol. Chem. 2010; 285: 3525-31.
Abstract
Harzenetter MD, Novotny AR, Gais P, Molinas CA, Altmayr F, Holzmann B: "Termination of Toll-like receptor responses by the neuropeptide CGRP is mediated by the transcriptional repressor ICER." J. Immunol. 2007; 179:607-615.
Abstract