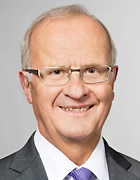 Prof. Ernst Denert
Career
Professor Denert studied electrical engineering at TU Berlin and received a doctorate in computer science from the same university. As of 1976 he worked in industry as a software engineer. In 1982 he founded sd&m, a software and consulting company, which he managed for 19 years.
Subsequently he was CEO of IVU Traffic Technologies AG, Berlin, a global provider of IT solutions for public transport companies. He has been retired since 2010.
Professor Denert has stayed in touch with developments in industry and the scientific community. He is the author of numerous papers and books and holds lectures on software engineering. He is a visiting lecturer and honorary professor of informatics at TUM.
In 1989 he set up the Ernst Denert Foundation to promote informatics, and software engineering in particular. He is also the donor of an endowed chair in "Software Engineering of Business Information Systems" in TUM's Department of Business Information Systems.
Functions
CEO of IVU Traffic Technologies AG, Berlin (2001-2009)
Founder, managing director, CEO of sd&m, software design & management, Munich (1982-2001)
Software engineer, project leader and head of department, Softlab GmbH, Munich (1976-1982)