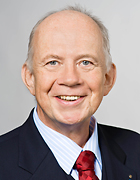 Prof. Dr. Martin G. Grambow
Career
Professor Grambow studied civil engineering at TUM. He is currently head of the Water Management and Soil Conservation Department in the Bavarian Ministry of the Environment and Consumer Protection (BayStMUV). His responsibilities include water laws and regulations, water monitoring and development, water supply and flood prevention. He represents Bavaria on national and international expert committees and heads the Donau River Basin Commission.
Within the framework of a project entitled Technology Transfer Water (TTW), Professor Grambow encourages the use of German know-how in the field of water technology and water management in international projects around the world.
He is also a member of the steering committee of the International Expert Group on Earth System Preservation (IESP) and a member of the Institute for Advanced Studies on Sustainability which was set up by the European Academy of Sciences and Humanities. He is currently acting head of the advisory committee of the Bavarian Environment Cluster and is a member of the advisory committee of the Bavarian Water Foundation. The main focus of his publications is integrated water resource management.
Functions
Head of the Water Management and Soil Conservation Department in the Bavarian Ministry of the Environment and Consumer Protection (since 2013)
Head of the Water Management Department in the Bavarian Ministry of the Environment and Public Health (2006-2012)
Section head responsible for fast-flowing streams and water management in low-lying areas and for state owned rivers and natural lakes in the Bavarian Ministry of the Environment and Public Health (2003-2006)
Head of the water management office in Hof, Germany (1996-2003)
Acting section head of water supply in the Bavarian Ministry for Regional Development and Environmental Issues (1992-1996)