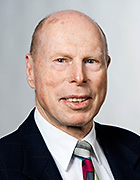 Prof. Dr. Günter Höhlein
Career
Professor Höhlein (b. 1939) studied Chemistry at TUM where he also acquired his doctorate in the same subject in 1967. This was followed by a postdoctoral fellowship at the University of Alberta, Edmonton, Canada.
In 1970 he took up a position at the Research Center in Karlsruhe, Germany, where as of 1974 he was responsible for the planning, construction and operation of nuclear waste management facilities. In 1979 he was appointed department head at Eurochemic, Belgium, and project manager of the first German vitrification plant for high radioactive fission products from fuel reprocessing. The operation phase was successfully completed in 1988. Professor Höhlein became managing director of Lurgi GmbH, Frankfurt, in 1986. Two years later he was appointed to the board of directors of DWK mbH, Hannover. After the German government decided to phase out the reprocessing of spent fuel, Professor Höhlein ended his career in the field of nuclear development.
Between 1990 and 2004 he was managing director of HIM GmbH, Wiesbaden, an industrial waste management and remediation company. Since 2004 Professor Höhlein has been chairman of the supervisory board of Sonderabfallentsorgung Bayern mbH (GSB), an entity responsible for the management and disposal of hazardous waste generated in Bavaria.