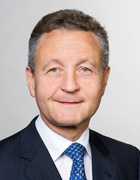 Prof. Klaus Josef Lutz
Career
Professor Lutz (b. 1958 in Munich) studied law at LMU Munich. He began his career as a lawyer but soon assumed leading positions in various industries during the course of which he acquired extensive expertise in restructuring and developing companies.
Professor Lutz has been managing director of Digital Equipment GmbH, CEO of DITEC Informationstechnologie AG, CEO of Burda Druck GmbH and CEO of i-center Beteiligungen AG. Prior to joining BayWa AG, he was managing director of Süddeutscher Verlag GmbH, one of Germany's largest media groups.
He has been CEO and chairman of the executive board of BayWa AG since July 2008. BayWa is a trading and services group with international operations. Its core businesses are agriculture, building materials and energy, with a special focus on renewable energies.
Functions
CEO and chairman of the executive board, BayWa AG (since 2008)
CEO, Süddeutscher Verlag GmbH (2002-2008)
CEO, i-center Beteiligungen AG (1999-2002)
CEO, Burda Druck GmbH (1996-1999)
Managing director, Digital Holding GmbH (1991-1994)