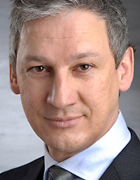 Prof. Dr. Alfred Hagen Meyer
Career
Professor Meyer (b. 1961) studied law in Berlin, Tübingen and Munich. After passing the second state examination he worked for various law firms. Today he is the founding and managing partner of law firm meyer.rechtsanwälte. The focus of his legal work is food law and legislation on food contact materials and other commodities, on a national and European level. Professor Meyer has lectured on food law at TUM's Institute of Food Chemistry since the 1995/1996 fall semester.
Professor Meyer's academic achievements are underscored by over 200 publications including a legal commentary on food advertising in a book on the German Act Against Unfair Competition edited by Professor Dr. Karl-Heinz Fezer entitled "UWG – Lauterkeitsrecht" (publisher: C.H. Beck, 2009) and a legal commentary, published in 2007 and edited in cooperation with Professor Streinz, on Regulation (EC) No. 178/2002 and on the German Law on Foodstuffs (LFGB) (publisher: C.H. Beck).
He is also editor of a collection of texts entitled "Meyer – Lebensmittelrecht" (Meyer – Food Law) (publisher: C.H. Beck), one of the editors of the manuals "Functional Food" and "Verkehrsauffassung im Lebensmittelrecht" (Prevailing opinions on food law) (publisher: Behr's) and an author and editor responsible for specific subject areas in the "Römpp Lexikon Lebensmittelchemie" (Encyclopedia of food chemistry) (publisher: Thieme).
Functions
Editor of the German Food Review (DLR)

Chairman of the friends' and supporters' association of the Research Center for German and European Food Law in Bayreuth

Chairman of the supervisory board of the German Nutrition Society (DGE)

Member of the scientific advisory board of the Association of the German Dairy Industry (MIV)