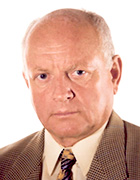 Prof. Dr. Heinz G. Schwärtzel
Career
Professor Schwärtzel (b. 1936) studied mathematics at LMU Munich. In 1981 he was given a teaching assignment at the University of Linz (Johannes-Kepler-Universität – JKU) and in 1986 he became an honorary professor for digital systems technology.
Since 1991 he has been an honorary professor at the TUM Department of Informatics. His subjects are system and software engineering and innovation and technology management.
Between 1995 and 2006 Professor Schwärtzel also taught on an engineering management program at the Technical University in Vienna. In 1996 he was a visiting professor for the management of large software systems at the Center for Information Technology at the North Western University, Evanston, Ill., USA.
For many years Professor Schwärtzel was a member of the advisory board of EECS at UC Berkeley (1986-1996), and of LCS at Carnegie Mellon University, Pittsburgh. Since 2004 he has been a member of the German Academy of Science and Engineering (ACATECH) and since 2008 an honorary member of the German Informatics Society (GI).
Functions
Founder VdAR of the Leibniz Center for Informatics (LZI) at Dagstuhl (1989-2011)

Head of the Central Information Technologies Division at Siemens AG (1981-1994)

Vice president and president of the German Informatics Society (GI), Bonn (1987-1991)

Founder VdAR of the German Research Center for Artificial Intelligence (DFKI), Saarbrücken & Kaiserslautern (1987-1994)

Head of the Systems Technologies Business Unit in the Corporate Technology Division of Siemens AG (1976)