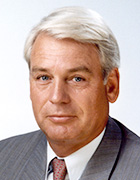 Prof. Dr. Mark Wössner
Career
Professor Wössner studied mechanical engineering at TH Karlsruhe subsequently obtaining his doctorate (Dr.-Ing.) at TH Stuttgart.
He spent the following 32 years at Bertelsmann AG (1968-2000). Having started out as an assistant, Professor Wössner was quickly promoted to become a manager, managing director and ultimately a member of the executive board. At this time (1990) Bertelsmann AG was the world's largest media company.
Until the end of the year 2000 Professor Wössner was chairman of the supervisory board and chairman of the Bertelsmann Foundation. After 2000 Professor Wössner served on various supervisory boards, including those of Daimler AG, Citigroup, Reuters, Heidelberger Druckmaschinen AG, Douglas and e-Circle.
Professor Wössner has held lectures on media studies at the University of St. Gallen (1998-2000) and later at TUM.
Functions
Honorary senator of the University of St. Gallen and the University of Witten/Herdecke (since 1998)

Member of the advisory board of Daimler AG (1998-2008)

Member of the board of trustees of TUM (1998-2008)

Chairman of the supervisory board and chairman of the Bertelsmann Foundation (1998-2000)

Chairman of the executive board of Bertelsmann AG (1983-1998)