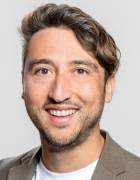 Academic Career and Research Areas
Professor Ienca (b. 1988) conducts research on the ethically sustainable development of AI systems and neurotechnologies. He uses theoretical and empirical methods to investigate the ethical, social and political implications of these technologies focusing on topics such as the brain-machine interface, the relationship between AI and human cognition, and the ethical processing of Big Data. He is known for his pioneering work on neurorights. He is the Neuroethics Lead of the International Brain Initiative and an expert advisor to the UN.
Ienca studied philosophy and cognitive science at the University of Rome, Humboldt-Universität zu Berlin, New York University and KU Leuven. In 2018, he completed his PhD in biomedical ethics at the University of Basel with summa cum laude honors. He then worked as a postdoc and senior researcher at ETH Zurich. In 2021, he was a visiting scholar at the University of Oxford and founded the Intelligent Systems Ethics Group at EPFL. In 2023, Dr.Ienca was appointed to the professorship for Ethics of AI & Neuroscience at TUM.
Awards
Neuroethics Lead, International Brain Initiative (2023)
Best Dissertation Award, Medical Faculty of the University of Basel/Goldschmidt-Jacobson Foundation (5'000 EUR), Switzerland (2021)
Appointed member of the Neurotechnology Steering Group of the OECD (2018)
Vontobel Prize for Age(ing) Research, Vontobel Foundation (5'000 EUR), Zurich (Switzerland) (2018)
Sonia Lupien Award for Social Responsibility in Neuroscience, IRCM, Kanada (2'500 CAD) (2015)
Ienca M. On neurorights. Frontiers in Human Neuroscience. 2021 Sep 24;15:701258.
Abstract
Ienca M, Vayena E. Ethical requirements for responsible research with hacked data. Nature Machine Intelligence. 2021 Sep;3(9):744-8.
Abstract
Ienca M, Vayena E. On the responsible use of digital data to tackle the COVID-19 pandemic. Nature medicine. 2020 Apr;26(4):463-4.
Abstract
Ienca M, Haselager P, Emanuel EJ. Brain leaks and consumer neurotechnology. Nature biotechnology. 2018 Oct;36(9):805-10.
Abstract
Ienca M, Andorno R. Towards new human rights in the age of neuroscience and neurotechnology. Life sciences, society and policy. 2017 Dec;13(1):1-27.
Abstract