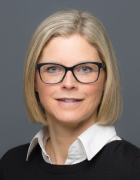 Academic Career and Research Areas
Professor Illert is a leading expert in the field of translational personalized Oncology. Her core expertise lies in the identification, validation and translational, clinical implementation of innovative targets and predictive biomarkers of immune and molecular tumor treatment. The goal of Prof. Illert's research is an optimal personalized therapy recommendation for each oncological patient, which is discussed in an interdisciplinary manner in the translational molecular tumor board at TUM under her leadership.
Prof. Illert studied Medicine in Göttingen. After receiving her doctorate at the Institute of Biochemistry, she went on to become a specialist in Internal Medicine, Hematology/Oncology and Palliative Medicine at TUM and the University Hospital of Freiburg. She then completed her habilitation and, following an MSKCC residency, was appointed Co-Director of the CCC Freiburg and Executive Senior Physician. In 2023, Prof. Illert was appointed to the professorship for Personalized Oncology at TUM and is the medical director of the Center for Personalized Medicine (ZPM) at the Klinikum Rechts der Isar.
Awards
Mildred Scheel Professorship of the DKH (2023)
Advanced Clinician Scientist Fellowship of the German Society for Internal Medicine DGIM (2021)
Brigitte Schlieben-Langen Fellowship of the Ministry of Science, Art and Research of the State of Baden-Württemberg (2018)
Eleonore and Fritz Hodeige Prize (2017)
Mathilde Wagner Habilitation Prize (2015)
Key Publications
Hoefflin R, Lazarou A, Hess ME, Reiser M, Wehrle J, Metzger P, Frey AV, Becker H, Aumann K, Berner K, Boeker M, Buettner N, Dierks C, Duque-Afonso J, Eisenblaetter M, Erbes T, Fritsch R, Ge IX, Geißler AL, Grabbert M, Heeg S, Heiland DH, Hettmer S, Kayser G, Keller A, Kleiber A, Kutilina A, Mehmed L, Meiss F, Poxleitner P, Rawluk J, Ruf J, Schäfer H, Scherer F, Shoumariyeh K, Tzschach A, Peters C, Brummer T, Werner M, Duyster J, Lassmann S*, Miething C*, Boerries M*, Illert AL*#, von Bubnoff N*. Transitioning the Molecular Tumor Board from Proof of Concept to Clinical Routine: A German Single-Center Analysis. Cancers (Basel). 2021 Mar 8;13(5):1151.
Abstract
Horak P, Heining C, Kreutzfeldt S, Hutter B, Mock A, Hüllein J, Fröhlich M, Uhrig S, Jahn A, Rump A, Gieldon L, Möhrmann L, Hanf D, Teleanu V, Heilig CE, Lipka DB, Allgäuer M, Ruhnke L, Laßmann A, Endris V, Neumann O, Penzel R, Beck K, Richter D, Winter U, Wolf S, Pfütze K, Geörg C, Meißburger B, Buchhalter I, Augustin M, Aulitzky WE, Hohenberger P, Kroiss M, Schirmacher P, Schlenk RF, Keilholz U, Klauschen F, Folprecht G, Bauer S, Siveke JT, Brandts CH, Kindler T, Boerries M, Illert AL, von Bubnoff N, Jost PJ, Spiekermann K, Bitzer M, Schulze-Osthoff K, von Kalle C, Klink B, Brors B, Stenzinger A, Schröck E, Hübschmann D, Weichert W, Glimm H, Fröhling S.Comprehensive Genomic and Transcriptomic Analysis for Guiding Therapeutic Decisions in Patients with Rare Cancers. Cancer Discov. 2021 Nov;11(11):2780-2795.
Abstract
Kreutmair S, Erlacher M, Andrieux G, Istvanffy R, Rudorf A, Zwick M, Kawaguchi H, Follo M, Klingeberg, C Wlodarski M, Baumann I, Mueller TA, Pfeifer D, Kulinski M, Rudelius M, Lemeer S, Kuster B, Dierks C, Peschel C, Cabesaz-Wallscheid N, Duque-Afonso J, Zeiser R, Cleary ML, Schindler D, Schmitt-Graeff A, Boerries M, Niemeyer CM, Oostendorp RAJ, Duyster J, Illert AL. Loss of the Fanconi Anemia-Associated Protein NIPA causes Bone Marrow Failure. Journal of Clinical Investigations 2020 130(6):2827-2844.
Abstract
Kreutmair S, Klingeberg C, Poggio T, Andrieux G, Keller A, Miething C, Follo M, Pfeifer D, Shoumariyeh K, Lengerke C, Gonzalez-Menendez I, Fend F, Zeiser R, Turner SD, Quintanilla-Martinez L, Boerries M, Duyster J, Illert AL. Existence of reprogrammed lymphoma stem cells in a murine ALCL-like model; Leukemia. 2020 Dec;34(12):3242-3255.
Abstract
Rudorf A, Müller T, Klingeberg C, Kreutmair S, Poggio T, Gorantla S, Rückert T, Schmitt-Gräff A, Gengenbacher A, Paschka P, Baldus C, Vassiliou GS, Bradley A, Duyster J, Illert AL. NPM1c alters FLT3-D835Y localization and signaling in acute myeloid leukemia. Blood 2019 Jul 25;134(4):383-388.
Abstract