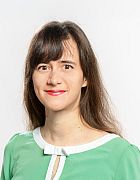 Prof. Dr. Julia Jellusova
Academic Career and Research Areas
Prof. Jellusova studies the interaction between cell metabolism and signal transduction in B lymphocytes. Uptake and utilization of nutrients is dynamically regulated in lymphocytes. In many cases, the metabolic profile governs cell fate and function. The goal of Prof. Jellusova's research is to identify metabolic vulnerabilities in malignant or hyperactive B cells and thus support the development of new therapeutic approaches for autoimmune diseases or B cell derived malignancies.
Prof. Jellusova studied biology and received her PhD from the Friedrich-Alexander University in Erlangen, Germany. As a postdoc, she conducted research at the Sanford Burnham Prebys Medical Discovery Institute in La Jolla, USA. At the end of 2015, she joined the Albert Ludwigs University Freiburg as a junior group leader and since 2017 worked on her habilitation supported by a Margarete von Wrangell fellowship. In 2021, Prof. Jellusova was appointed to the professorship of Immune Signaling at the TUM.
Awards
STS Science Award (2017)
Eric Dudl Scholarship Award (2015)
Fishman Fund Award (2013)
STAEDTLER Foundation Award (2011)
Fritz and Maria Hofmann Award (2007)
Jumaa, H., Caganova, M., McAllister, E.J., Hoenig, L., He, X., Saltukoglu, D., Brenker, K., Kohler, M., Leben, R., Hauser, A.E., Niesner, R., Rajewsky, K., Reth, M., Jellusova, J.: "Immunoglobulin expression in the endoplasmic reticulum shapes the metabolic fitness of B lymphocytes". Life Sci Alliance. 2020; 3.
Abstract
Jellusova, J.: "The role of metabolic checkpoint regulators in B cell survival and transformation". Immunol Rev. 2020; 295; 39-53.
Abstract
McAllister, E. J., J. R. Apgar, C. R. Leung, R. C. Rickert, and J. Jellusova.: "New Methods To Analyze B Cell Immune Responses to Thymus-Dependent Antigen Sheep Red Blood Cells". J Immunol.. 2017; 199: 2998-3003.
Abstract
Jellusova, J., M. H. Cato, J. R. Apgar, P. Ramezani-Rad, C. R. Leung, C. Chen, A. D. Richardson, E. M. Conner, R. J. Benschop, J. R. Woodgett, and R. C. Rickert.: "Gsk3 is a metabolic checkpoint regulator in B cells". Nat Immunol.. 2017.
Abstract
Jellusova, J*., A. V. Miletic*, M. H. Cato, W. W. Lin, Y. Hu, G. A. Bishop, M. J. Shlomchik, and R. C. Rickert.: "Context-specific BAFF-R signaling by the NF-kappaB and PI3K pathways". Cell Rep. 2013; 5: 1022-1035. *equal authorship
Abstract