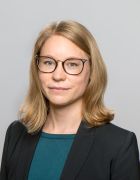 Prof. Dr.-Ing. Agnes Jocher
Academic Career and Research Areas
Agnes Jocher's research examines practically viable, longer term solutions that reduce transportation emissions. Specific research areas considered include experiments and computational modeling of combustion processes paired with electromagnetic fields and advancing the Hyperloop technology.
Agnes Jocher earned her Diploma in Engineering Sciences at the Technical University of Munich and received her doctorate from the Faculty of Mechanical Engineering at RWTH Aachen University and the Sorbonne Université. As a postdoctoral fellow, she worked at the Massachusetts Institute of Technology. Most recently, she worked at the Federal Environment Agency in the field of sustainable aviation fuels. In addition, she is on the steering committee of the TUM Hyperloop program and was selected as a member of the founding advisory board of the German Center for Future Mobility (DZM) in 2021.
Key Publications
Liu, M., Chu, T.C., Jocher, A., Smith, M., Lengyel, I., Green, W. H.: "Predicting polycyclic aromatic hydrocarbon formation with an automatically generated mechanism for acetylene pyrolysis", Int. J. Chem. Kinet., in press, 16.09.2020.
Abstract
Jocher, A., Evans, M. J., Medwell, P. R., Dally, B. B., Pitsch, H., Nathan, G. J.: "On the use of oscillating jet flames in a coflow to develop soot models for practical applications". Proc. Combust. Inst., in press, 05.08.2020.
Abstract
Jocher, A., Vandewiele N., Han, K., Liu, M., Gao, C., Gillis, R., Green, H.W.: "Scalability strategies for automated reaction mechanism generation". Comput. Chem. Eng. 131, pp. 106578, 2019.
Abstract
Jocher, A., Bonnety, J., Gomez, T., Pitsch, H., Legros, G.: "Combustion instability mitigation by magnetic fields". Phys. Rev. E, 95(6), pp. 063113. 2017.
Abstract
Flouros, M., Cottier, F., Hirschmann, M., Kutz, J., Jocher, A.: "Ejector Scavenging of Bearing Chambers: A Numerical and Experimental Investigation". J. Eng. Gas Turbines Power, 135(8). 2013.
Abstract