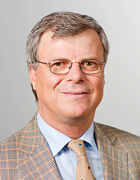 Academic Career and Research Areas
The research interests of Prof. Kastrati (b. 1955) focus on optimizing treatment strategies in patients with acute coronary syndrome and in developing new drug-coated stents with an improved safety and efficacy profile. Another area is optimization of adjunctive peri-procedural antithrombotic therapy and evaluation of prognosis based on genetic and biochemical markers.
Prof. Kastrati studied medicine in Tirana, Albania, where he graduated in 1979. He trained as a specialist and completed his postdoctoral studies in 1988. An Alexander von Humboldt research grant then took him to the 3rd medical clinic of Heidelberg University and the 1st medical clinic of TUM. Prior to his appointment to the Chair of Internal Medicine at TUM (2000), he worked as visiting researcher at the German Cardiac Center in Munich (DHM). Prof. Kastrati is currently chief physician and Deputy Director of the Cardiovascular Disease Clinic at DHM. He is Director of the Cardiac Catheter Laboratory and the ISARESEARCH Center.
Awards
Paul Morawitz Award, German Society of Cardiology (2015)
Andreas Grüntzig Lecture Interventional Cardiology, European Society of Cardiology (2014)
ETHICA Award Interventional Cardiology, European Association of Percutaneous Cardiovascular Interventions EAPCI (2014)
Sven Effert Award in the field of Interventional Cardiology, German Society of Cardiology (2009)
Cassese S, Byrne RA, Ndrepepa G, Kufner S, Wiebe J, Repp J, Schunkert H, Fusaro M, Kimura T, Kastrati A: "Everolimus-eluting bioresorbable vascular scaffolds versus everolimus-eluting metallic stents: a meta-analysis of randomised controlled trials". Lancet. 2016 Feb 6;387(10018):537-44. (Epub 2015 Nov 17)
Abstract
Byrne RA, Neumann FJ, Mehilli J, Pinieck S, Wolff B, Tiroch K, Schulz S, Fusaro M, Ott I, Ibrahim T, Hausleiter J, Valina C, Pache J, Laugwitz KL, Massberg S, Kastrati A: "ISAR-DESIRE 3 investigators. Paclitaxel-eluting balloons, paclitaxel-eluting stents, and balloon angioplasty in patients with restenosis after implantation of a drug-eluting stent (ISAR-DESIRE 3): a randomised, open-label trial". Lancet. 2013 Feb 9; 381(9865): 461-7. (Epub 2012 Dec 1)
Abstract
Kastrati A, Neumann FJ, Schulz S, Massberg S, Byrne RA, Ferenc M, Laugwitz KL, Pache J, Ott I, Hausleiter J, Seyfarth M, Gick M, Antoniucci D, Schömig A, Berger PB, Mehilli J: "ISAR-REACT 4 Trial Investigators. Abciximab and heparin versus bivalirudin for non-ST-elevation myocardial infarction". N Engl J Med. 2011 Nov 24; 365(21): 1980-9. (Epub 2011 Nov 13)
Abstract
Mehilli J, Pache J, Abdel-Wahab M, Schulz S, Byrne RA, Tiroch K, Hausleiter J, Seyfarth M, Ott I, Ibrahim T, Fusaro M, Laugwitz KL, Massberg S, Neumann FJ, Richardt G, Schömig A, Kastrati A: "Is Drug-Eluting-Stenting Associated with Improved Results in Coronary Artery Bypass Grafts? (ISAR-CABG) Investigators. Drug-eluting versus bare-metal stents in saphenous vein graft lesions (ISAR-CABG): a randomised controlled superiority trial". Lancet. 2011 Sep 17; 378(9796):1071-8. (Epub 2011 Aug 26)
Abstract
Kastrati A, Neumann FJ, Mehilli J, Byrne RA, Iijima R, Büttner HJ, Khattab AA, Schulz S, Blankenship JC, Pache J, Minners J, Seyfarth M, Graf I, Skelding KA, Dirschinger J, Richardt G, Berger PB, Schömig A: "ISAR-REACT 3 Trial Investigators. Bivalirudin versus unfractionated heparin during percutaneous coronary intervention". N Engl J Med. 2008 Aug 14; 359(7):688-96. (Erratum in: N Engl J Med. 2008 Aug 28;359(9):983.)
Abstract