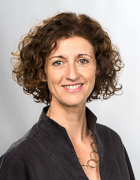 Academic Career and Research Areas
The Chair of Prof. Keller (*1962) is focused on issues of contemporary landscape architecture and the development of public spaces. In this context, Prof. Keller is looking for landscape architectural solutions that meet today's demands in the city against the backdrop of resource issues, climate change and the protection of historical monuments. At the center of the conception of urban spaces is the quality of life of humans and other species.
After studying Art History and Theater Studies at LMU Munich and Landscape Architecture at TUM, Prof. Keller was a research assistant at the TUM Chair of Landscape Architecture and Design (Prof. Valentien). Before her appointment at TUM in 2005, she taught at the Munich University of Applied Sciences. Prof. Keller is a member of the Bavarian Chamber of Architects, the Association of German Landscape Architects, the Werkbund, DASL, and a member of the Bavarian Academy of Fine Arts, the Academy of Arts in Berlin, the General Assembly of the Goethe Institute, and ICOMOS. From 2011 to 2014, Prof. Keller served as Vice President for Academic Affairs. Prof. Keller is currently Head of Department Architecture at the School of Engineering and Design.
Awards
Pro meritis scientiae et litterarum prize awarded by the Bavarian State Ministry of Sciences, Research and the Arts (2013)

Honor Award of the City of Munich for student residence Am Stiftsbogen, Wagnis 3' Wohnanlage Riem, 'Drei Höfe' Andreestrasse (2010)

German Building and Construction Award (Bauherrenpreis) for student residence Felsennelkenanger (with architects' office bogevischs) (2006)

Bavarian Residential Building Award (Bayerischer Wohnungsbaupreis): gardens, courtyards, squares (Gärten Höfe Plätze) (2005)

Art Scholarship from the Bavarian Academy of Fine Arts (2003)
Keller, R.: Grün, Günther Grzimek, Planung Gestaltung Programme, Hirmer Verlag München, 2022.
Abstract
Keller, R.: Der Olympiapark München – Demokratisches Grün als Gesamtkunstwerk, In: Das moderne Erbe der Olympischen Spiele, Nationalkomitee der Bundesrepublik Deutschland, ICOMOS, Hefte, Berlin 2021.
Abstract
Keller, R.: Die historischen Freiflächen des Klosterareals, In: Huber, P. Das Zisterzienserkloster Raitenhaslach, Volk Verlag 2020, S. 117-130.
Abstract
Keller, R.: Neuperlach 2.0, Utopien in der Landschaftsarchitektur. In: Hild, A., Müsseler, A., (Hg.), Neuperlach ist schön, Franz Schiermeier Verlag, München 2018, S. 651-671.
Abstract
Ahn, S., Keller, R., False Nature. In: Girot, Ch., Imhof, D. (Hg.), Thinking the Contemporary Landscape, Princeton Architectural Press, New York 2017, S. 52-63.
Abstract