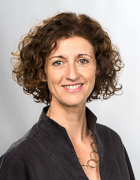 Academic Career and Research Areas
The Chair of Prof. Keller (b. 1962) focuses on issues of current landscape architecture and of the development of public spaces. It involves searching for landscape architectural solutions that meet the present-day needs of both rural and urban areas. In the design of urban spaces, the central focus is on quality of life.
After studying art history and dramatics at Munich's Ludwig Maximilian University and Landscape Conservation at TUM, Prof. Keller became a research assistant at TUM in the Department of Landscape Architecture and Design (under Prof. Valentien). Before joining TUM, Prof. Keller taught at Munich University of Applied Sciences (FH Munich). Prof. Keller is a member of the Bavarian Architects' Association, the Federation of German Landscape Architects, the Werkbund (Work Federation), the DASL (German Academy for Urban Planning and Regional Development) and the Bavarian Academy of Fine Arts. She is also a member of the Council of Building Culture in the cities of Nuremberg and Würzburg. From 2011 to 2014 Prof. Keller was Senior Vice President for Academic and Student Affairs.
Awards
Pro meritis scientiae et litterarum prize awarded by the Bavarian State Ministry of Sciences, Research and the Arts (2013)

Honor Award of the City of Munich for student residence Am Stiftsbogen, Wagnis 3' Wohnanlage Riem, 'Drei Höfe' Andreestrasse (2010)

German Building and Construction Award (Bauherrenpreis) for student residence Felsennelkenanger (with architects' office bogevischs) (2006)

Bavarian Residential Building Award (Bayerischer Wohnungsbaupreis): gardens, courtyards, squares (Gärten Höfe Plätze) (2005)

Art Scholarship from the Bavarian Academy of Fine Arts (2003)
Key Publications
Keller R: "Demokratisches Grün- von der Besitzergreifung des Rasens bis zur Occupy Bewegung". In: Demokratisches Grün-Olympiapark München. Editors: Hennecke S, Keller R, Schneegans J. Berlin: Jovis, 2013: 37-43.
Keller R: "Democratic Green". Topos. 2012; 80: 55-60.
Hauck T., Keller R., Kleinekort V., Editor: Infrastructural Urbanism,Adressing the In-Between, DOM PublishersBerlin, 2011
Keller, R.: "Xochimilco - Schwimmende Gärten". In: Garten+Landschaft, Thema "Arbeiten im Ausland" über das Masterprojekt in Mexiko-Stadt. 2010; 120(8), S. 28-31.
Hauck T, Keller R., Kleinekort V., "Reflexiver Infrastruktururbanismus". In: Metropole: Metrozonen. Editor: IBA Hamburg. Berlin, Jovis Verlag, 2010; S.78-85.