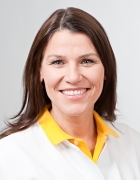 Academic Career and Research Areas
The research interests of Professor Kiechle (b. 1960) are in the field of gynecological oncology with particular attention to inheritable cancer in women and the establishment of individualized cancer targets. In her clinical research she focuses on the diagnosis, treatment and prevention of tumor disease in women. This has involved setting up internationally certified interdisciplinary centers specializing in breast cancer and gynecological cancer in the Department of Gynecology at Klinikum rechts der Isar.
After completing her medical studies, obtaining her license to practice medicine (1986), and receiving her PhD (1987) in Freiburg, Professor Kiechle was the recipient of a German Research Foundation (DFG) scholarship (1987 – 1989). During this time she worked for a year at the Cancer Center of the Southwest Biomed Research Institute, USA. She returned to Freiburg to work as a staff scientist. She acquired her postdoctoral teaching qualification (habilitation) in 1995 and subsequently worked as senior physician in the Department of Gynecology at the University Hospital of Kiel (1996 – 2000). Since October 2000 Professor Kiechle has been director of the Department of Gynecology at TUM's Klinikum rechts der Isar. Furthermore, Professor Kiechle is a board member of the German Society of Gerontology and Geriatrics (DGGG) and adjunct professor at Kiel University (Christian-Albrechts Universität). Professor Kiechle served as Bavarian Minister of State for Science and the Arts between March and November 2018.
Key Publications
Kiechle M, Hinrichs M, Jacobsen A, Lüttges J, Pfisterer J, Kommoss F, Arnold N: "Genetic imbalances in precursor lesions of endometrial cancer detected by CHG." Am J Pathol. 2000; 156: 1827-1833.
Abstract
Kiechle M, Jacobsen A, Schwarz-Boeger U, Hedderich J, Pfisterer J, Arnold N. "CGH detects genetic imbalances in primary ovarian carcinomas correlated with grade of differentiation." Cancer (2001) 91(3):534-40.
Abstract
German Consortium for Hereditary Breast and Ovarian Cancer der Deutschen Krebshilfe (Leitung M. Kiechle). "Comprehensive analysis of 989 patients with breast or ovarian cancer provides BRCA1 and BRCA2 mutation profiles and frequencies for the german population." Int J Cancer (2002) 97: 472-480.
Abstract
Meindl A, Hellebrand H, Wiek C, Erven V, Wappenschmidt B, Niederacher D, Freund M, Lichtner P, Hartmann L, Schaal H, Ramser J, Honisch E, Kubisch C, Wichmann HE, Kast K, Deissler H, Engel C, Müller-Myhsok B, Neveling K, Kiechle M, Mathew CG, Schindler D, Schmutzler RK, Hanenberg H. "Germline mutations in breast and ovarian cancer pedigrees establish RAD51C as a human cancer susceptibility gene." Nat Genet. 2010 May;42(5):410-4.
Abstract
Kiechle M.(Hrsg.). Gynäkologie und Geburtshilfe. Elsevier Verlag, München. 2. Auflage 2011. ISBN 978-3-437-42407-6
Abstract