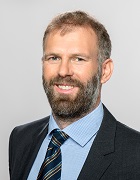 Prof. Dr. Nikolai Klymiuk
Academic Career and Research Areas
Nikolai Klymiuk is working on the genetic engineering of large animals for biomedical research. Major goal of his research is optimizing the translational potential of the animal models by thorough design, efficient generation, and comprehensive characterization. Finally, state-of-the-art intervention technologies need application for the extensive usage of large animal models in pre-clinical research. Main research focus is on pig models for monogenic diseases and xenotransplantation.
Nikolai Klymiuk studied Biochemistry at the University of Vienna, Austria. He spent his post-Doc carrier at the Chair of Molecular Animal Breeding and Biotechnology at LMU Munich. 2018 he was offered the position as a head at the Institute for Farm Animal Genetics at the Friedrich-Loeffler-Institut in Mariensee/Hannover. Since 2019 he is an Associate Professor for Large Animal Models for Cardiovascular Research at the Clinic for Cardiology of TUM.
Awards
Publication Award f the European Society of Toxicologic Pathology (2017)
Walther Baier Research Award (2014)
Felix-Jerusalem-Award(2013)
Christiane Herzog Research Scholarship (2010)
Postdoctoral Scholarship of the Bavarian Research Foundation (2005 - 2006)
Key Publications
Moretti A, Fonteyne L, Giesert F, Hoppmann P, Meier AB, Bozoglu T, Baehr A, Schneider CM, Sinnecker D, Klett K, Fröhlich T, Rahman FA, Haufe T, Sun S, Jurisch V, Kessler B, Hinkel R, Dirschinger R, Martens E, Jilek C, Graf A, Krebs S, Santamaria G, Kurome M, Zakhartchenko V, Campbell B, Voelse K, Wolf A, Ziegler T, Reichert S, Lee S, Flenkenthaler F, Dorn T, Jeremias I, Blum H, Dendorfer A, Schnieke A, Krause S, Walter MC, Klymiuk N, Laugwitz KL, Wolf E, Wurst W, Kupatt C: "Somatic gene editing ameliorates skeletal and cardiac muscle failure in pig and human models of Duchenne muscular dystrophy". Nature Medicine. 2020; 26 (2): 207-214.
Abstract
Regensburger AP, Fonteyne LM, Jüngert J, Wagner AL, Gerhalter T, Nagel AM, Heiss R, Flenkenthaler F, Qurashi M, Neurath MF, Klymiuk N, Kemter E, Fröhlich T, Uder M, Woelfle J, Rascher W, Trollmann R, Wolf E, Waldner MJ, Knieling F: "Detection of collagens by multispectral optoacoustic tomography as an imaging biomarker for Duchenne muscular dystrophy". Nature Medicine. 2019; 25(12): 1905-1915.
Abstract
Längin M, Mayr T, Reichart B, Michel S, Buchholz S, Guethoff S, Dashkevich A, Baehr A, Egerer S, Bauer A, Mihalj M, Panelli A, Issl L, Ying J, Fresch AK, Buttgereit I, Mokelke M, Radan J, Werner F, Lutzmann I, Steen S, Sjöberg T, Paskevicius A, Qiuming L, Sfriso R, Rieben R, Dahlhoff M, Kessler B, Kemter E, Kurome M, Zakhartchenko V, Klett K, Hinkel R, Kupatt C, Falkenau A, Reu S, Ellgass R, Herzog R, Binder U, Wich G, Skerra A, Ayares D, Kind A, Schönmann U, Kaup FJ, Hagl C, Wolf E, Klymiuk N, Brenner P, Abicht JM: "Consistent success in life-supporting porcine cardiac xenotransplantation". Nature. 2018; 564 (7736): 430-433.
Abstract
Simmet K, Zakhartchenko V, Philippou-Massier J, Blum H, Klymiuk N, Wolf E. OCT4/POU5F1 is required for NANOG expression in bovine blastocysts. Proceedings of the National Academy of Sciences of the USA. 2018; 115 (11): 2770-2775.
Abstract
Klymiuk N, Blutke A, Graf A, Krause S, Burkhardt K, Wuensch A, Krebs S, Kessler B, Zakhartchenko V, Kurome M, Kemter E, Nagashima H, Schoser B, Herbach N, Blum H, Wanke R, Aartsma-Rus A, Thirion C, Lochmüller H, Walter MC, Wolf E: "Dystrophin-deficient pigs provide new insights into the hierarchy of physiological derangements of dystrophic muscle". Human Molecular Genetics. 2013; 22 (21): 4368-4382.
Abstract