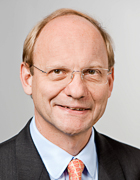 Prof. Dr.-Ing. Alexander W. Koch
Academic Career and Research Areas
The research activities of Prof. Koch (b. 1958) include optomechatronic measurement technology, laser measurement systems, optical fiber sensors, holographic speckle interferometry, image and sensor data processing, FTIR spectroscopy, environmental monitoring, multisensory systems and medical measuring systems.
Prof. Koch studied electrical engineering and information technology at TUM and obtained his doctorate at Universität der Bundeswehr München in 1988. From 1988 to 1992, he was a research fellow at the Max Planck Society – Max Planck Institute for Plasma Physics. He completed his lecturer qualification in electrophysics in 1992. In the same year, he accepted the position of professor of measurement science at Saarland University. Prof. Koch has been full professor of measurement systems and sensor technology at TUM since 1998. His teaching covers the fields of sensor technology, photonic measurement systems and laser measurement systems. He also lectures regularly at the German Institute for Science and Technology, GIST-TUM ASIA in Singapore.
Awards
Honorary doctorate from the Technical University of Iasi, Romania (2009)
Personal Promoting Member of the Max Planck Society (1996)
Mueller U, Baier H, Mueller M, Koch AW: "Vibration and Shape Control in Opto-mechanical Systems Using Distributed Fiber-optic Bragg Grating Sensors". Journal of Vibration and Control. 2010; 16(4): 539-553.
Abstract
Hirth F, Buck T, Pérez-Grassi A, Koch AW: "Depth-sensitive Thin Film Reflectometer". Measurement Science and Technology. 2010; 21(12): 125301.
Abstract
Mueller MS, Hoffmann L, Sandmair A, Koch AW: "Full Strain Tensor Treatment of Fiber Bragg Grating Sensors". IEEE J. Quantum Electronics. 2009; 45(5): 547-553.
Abstract
Koch AW: "Speckle Measurement Techniques for Surface Analysis". In: Speckle Photography and Speckle Interferometry and their Applications to Mechanic Solid Problems. Editor: Salazar F. 2008.
Abstract
Koch AW; Ruprecht MW, Toedter O, Häusler G: Optische Messtechnik an technischen Oberflächen. Renningen-Malmsheim: Expert-Verlag, 1998.
Abstract