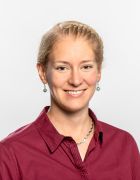 Academic Career and Research Areas
The field of research of Professor Koch covers questions of high voltage technology with a focus on equipment for a safe, sustainable and future proof transmission of electricity. Main areas are the investigation and characterization of alternative insulating gases for the replacement of the widely used sulphur hexafluoride as well as the understanding and further development of materials and concepts for insulation systems for cable based power transmission.
After studying electrical engineering and information technology at the RWTH Aachen, Professor Koch moved to the ETH Zurich. There she received her Ph.D. in 2015 with a thesis on the modelling of breakdown behavior in alternative insulation gases. This was followed by an industrial activity at the company Pfisterer Kontaktsysteme GmbH as research engineer for cable accessories. In addition, she was a guest professor at the TU Darmstadt in 2018/2019. In 2020 she was appointed professor at the Technical University of Munich.
Key Publications
Y. Späck-Leigsnering, M. Koch, C. Bergfried, E. Gjonaj, H. De Gersem and M. Heckel: "Electrothermal Finite Element Analysis of a Pluggable High Voltage Surge Arrester", VDE-Hochspannungstechnik, Berlin, 2020, accepted
M. Koch, J. Hohloch, I. Wirth, S. Sturm, M. H. Zink and A. Küchler: "Experimental and simulative analysis of the thermal behavior of high voltage cable joints", VDE-Hochspannungstechnik, Berlin, 2018
Abstract
M. Koch and C. M. Franck: "High voltage insulation properties of HFO1234ze", IEEE Trans. Dielectr. Electr. Insul., vol. 22, pp. 3260–3268, 2015
Abstract
M. Koch and C. M. Franck: "Prediction of partial discharge and breakdown voltages in CF4 for arbitrary electrode geometries", J. Phys. D: Appl. Phys., vol. 48, 055207, 2015
Abstract
M. Koch, M. Bujozek and C. M. Franck: "Inception level of discharges in SF 6 induced with short x-ray pulses", CEIDP Conference on Electrical Insulation and Dielectric Phenomena, Des Moines, pp. 11–14, 2014
Abstract