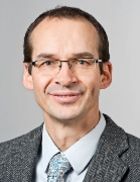 Prof. Dr. Johannes Kollmann
Academic Career and Research Areas
The research of Prof. Kollmann (b. 1963) focuses on the restoration of ecosystems destroyed by human activities. In particular, he investigates semi-natural reference systems, criteria for selecting plants for restoration purposes, plant-animal interactions, invasive alien species and the long-term monitoring of restored systems.
Prof. Kollmann studied biology and chemistry at the Universities of Kiel and Freiburg. He did his doctorate on the topic of vegetation ecology at the University of Freiburg. Following a postdoc stay at the University of Cambridge, he became a lecturer at the Swiss Federal Institute of Technology in Zurich. In 2000, he accepted a position at the University of Copenhagen and in 2010 was appointed as Chair of Restoration Ecology at TUM. Prof. Kollmann is a member of several scientific associations and co-editor of a number of international environmental journals. He is regularly called on as an expert in Germany and abroad.
Awards
Associate Professor NIBIO Oslo (2016-2020)
Appointment to the University of Vienna (2009)
Lecturer of the year, KVL (2004)
Walter Schall Prize (1995)
Key Publications
Durka W, Michalski S, Bossdorf O, Bucharova A, Hermann JM, Hölzel N, Kollmann J: "Genetic differentiation within multiple common grassland plants supports seed transfer zones for ecological restoration". Journal of Applied Ecology. 2016; 54(1): 116-126
Abstract
Conradi T, Temperton VM, Kollmann J.: "Resource availability determines the importance of niche-based versus stochastic community assembly in grasslands". Oikos. 2017; 126(8): 1134-1141.
Abstract
Kollmann J, Meyer ST, Bateman R, Conradi T, Gossner MM, Mendonça Junior M de Souza, Fernandes GW, Hermann JM, Koch C, Müller SC, Oki Y, Overbeck GE, Paterno GB, Rosenfield MF, Toma TSP, Weisser WW: "Integrating ecosystem functions into restoration ecology – recent advances and future directions". Restoration Ecology. 2016; 24(6): 722-730.
Abstract
Strobl K, Schmidt C, Kollmann J: "Selecting plant species and traits for phytometer experiments. The case of peatland restoration". Ecological Indicators. 2018; 88: 263-273.
Abstract
Yannelli FA, Koch C, Jeschke JM, Kollmann J: "Limiting similarity and Darwin's naturalization hypothesis: understanding the drivers of biotic resistance against invasive plant species". Oecologia. 2017; 183(3): 775-784.
Abstract