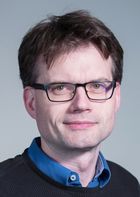 Academic Career and Research Areas
Professor Korn (b. 1972) is interested in the molecular characterization of fate decisions of T cells in non-lymphoid tissues in particular in the central nervous system in the context of autoimmunity. A specific focus of his research is the formation of CD4+ T helper cell responses.


After graduating from Medical School at the Julius-Maximilians University Würzburg and the Royal London School of Medicine, Professor Korn started a residency program in Neurology and worked in the Neuroimmunology Research groups of Klaus Toyka, Würzburg and later with Stefan Jung, Homburg/Saar. He became board approved Fellow in Neurology in 2005 and then began a postdoctoral training with Vijay Kuchroo at Harvard Medical School. Back in Germany, Professor Korn became senior physician at the Department of Neurology of the Technical University of Munich and started his own research group with a Heisenberg Award from the German Research Council. Since 2013, Professor Korn has held a full professorship for Neuroimmunology and has been deputy director of the Department of Neurology of the Klinikum rechts der Isar.
Awards
ERC Consolidator Grant (2015)
Heinrich Pette Award, German Society of Neurology (2010)
Sobek Young Investigator Award (2008)
Helmut Bauer Award for Multiple Sclerosis Research (2008)
Heisenberg Award, DFG German Research Council (2008)
Knier B, Hiltensperger M, Sie C, Aly L, Lepennetier G, Engleitner T, Garg G, Muschaweckh A, Mitsdörffer M, Koedel U, Höchst B, Knolle P, Gunzer M, Hemmer B, Rad R, Merkler D, Korn T: "Myeloid-derived suppressor cells control B cells within the central nervous system during autoimmunity". Nature Immunology. 2018; 19: 1341-1351.
Abstract
Heink S, Yogev N, Garbers C, Herwerth M, Aly L, Gasperi C, Husterer V, Croxford AL, Möller-Hackbarth K, Bartsch HS, Sotlar K, Krebs S, Regen T, Blum H, Hemmer B, Misgeld T, Wunderlich TF, Hidalgo J, Oukka M, Rose-John S, Schmidt-Supprian M, Waisman A, Korn T: "Dendritic cells are non-redundant sources of IL-6 for the priming of pathogenic Th17 cells due to a novel mode of IL-6 signaling". Nature Immunology. 2017; 18: 74-85.
Abstract
Petermann F, Rothhammer V, Claussen MC, Haas JD, Riol-Blanco L, Heink S, Prinz I, Hemmer B, Kuchroo VK, Oukka M, Korn T: "γδ T cells enhance autoimmunity by restraining Treg responses via an IL-23 dependent mechanism". Immunity. 2010; 33: 351-363.
Abstract
Korn T, Bettelli E, Gao W, Awasthi A, Jäger A, Strom TB, Oukka M, Kuchroo VK: "IL-21 initiates an alternative pathway to induce proinflammatory TH17 cells". Nature. 2007; 448: 484-487.
Abstract
Korn T, Reddy J, Gao W, Bettelli E, Awasthi A, Petersen TR, Bäckström BT, Sobel RA, Wucherpfennig KW, Strom TB, Oukka M, Kuchroo VK: "Myelin-specific regulatory T cells accumulate in the CNS but fail to control autoimmune inflammation". Nat Med. 2007; 13(4): 423-31.
Abstract