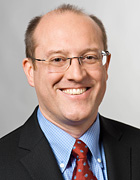 Academic Career and Research Areas
Professor Kramer (b. 1970) conducts research on telecommunication technology and information theory, as well as their applications in radio, telephone and fiber glass channels. His research focuses on the core interests of the modern information society: increasing the information density and reliability of messages, expanding the capacity and efficiency of the transmission media and networks and improving data storage methods.
Professor Kramer studied electrical engineering at the University of Manitoba (Canada) and was awarded a doctorate at the Swiss Federal Institute of Technology Zurich in 1998. From 1998 to 2000, he worked at Endora Tech (Basel) as a communication engineer. From 2000 to 2008, he was a member of technical staff at the Math Center, Bell Labs, Alcatel-Lucent, Murray Hill, New Jersey (USA). In 2009, he assumed a professorship at the University of Southern California (USC) in Los Angeles. Since 2010, he has held the position of Alexander von Humboldt Professor at TUM. Since October 2019, he has been Senior Vice President for Research and Innovation.
Awards
Member, Bavarian Academy of Sciences and Humanities (2015)
Thomson Reuters Highly Cited Researcher in Computer Science (2014-2016)
Vodafone Innovations Prize (2011)
Alexander von Humboldt Professur (2010)
IEEE Fellow (2010)
Hou J, Kramer G, Bloch M: "Effective secrecy: reliability, confusion and stealth". In: Information Theoretic Security and Privacy of Information Systems. Boche H, Khisti A, Poor HV, Schaefer RF. Cambridge, UK: Cambridge University Press, 2017: 3-20.
Abstract
Essiambre RJ, Kramer G, Winzer PJ, Foschini G J, Goebel B: "Capacity limits of optical fiber networks". IEEE/OSA Journal of Lightwave Technology. 2010; 28(4): 662-701.
Abstract
Liang Y, Kramer G, Poor HV, Shamai (Shitz) S: "Compound wiretap channels". EURASIP Journal on Wireless Communications and Networking. 2009; 2009: 142374.
Abstract
Kramer G, Gastpar M, Gupta P: "Cooperative strategies and capacity theorems for relay networks". IEEE Transactions on Information Theory. 2005; 51(9): 3037-3063.
Abstract
ten Brink S, Kramer G, Ashikhmin A: "Design of low-density parity-check codes for modulation and detection". IEEE Transactions on Communications. 2004; 52(4): 670-678.
Abstract