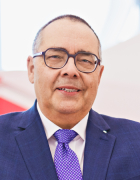 Academic Career and Research Areas
Helmut Krcmar (*1954) is a German Information Systems and Management scholar. He conducts research in the fields of digital transformation, information and knowledge management, platform-based ecosystems, management of IT-based services, e-government and computer-supported collaboration.
Helmut Krcmar studied business administration at the Universität des Saarlandes, where he later received a Ph.D. (1984). From 1987 to 2002 he held the Chair for Information Systems at the Universität Hohenheim. 2002 he was appointed to the Chair for Information Systems at TUM, which he held until 2020. Today, he leads the Krcmar Lab at the TUM Department of Informatics. In addition, he has a joint appointment to the TUM School of Management. He is Founding Dean and Delegate Officer of the President for TUM Campus Heilbronn.
Awards
1st place in the WirtschaftsWoche ranking of the strongest research professors in business administration in German-speaking countries (2019)
AIS Best Information Systems Publications Award (2017)
IBM Faculty Award (2016)
Fellow of the Association for Information Systems (2016)
Paul Gray Award for the Most Thought Provoking Paper (2015)
Key Publications
Pflügler C, Becker N, Wiesche M, Krcmar H: "Strategies for Retaining Key IT Professionals". MIS Quarterly Executive. 2018; 17(4): 297-314. Link.
Abstract
Wiesche M, Jurisch M, Yetton PW, Krcmar H: "Grounded Theory Methodology in Information Systems Research". MIS Quarterly. 2017; 41(3): 685-702.
Abstract
Schermann M, Dongus K, Yetton P, Krcmar H: "The Role of Transaction Cost Economics in Information Technology Outsourcing research: A Meta-Analysis of the Choice of Contract Type". The Journal of Strategic Information Systems. 2016; 25(1): 32-48.
Abstract
Krcmar H: Informationmanagement. Heidelberg: Springer-Verlag, 2016.
Abstract
Leimeister JM, Huber M, Bretschneider U, Krcmar H: "Leveraging Crowdsourcing: Activation-Supporting Components for IT-Based Ideas Competition". Journal of Management Information Systems. 2009; 26 (1): 197-224.
Abstract