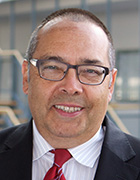 Academic Career and Research Areas
Prof. Dr. Krcmar (*1954) holds the Chair of Information Systems at the Department of Informatics, where he conducts research in the fields of digital transformation, information and knowledge management, platform-based ecosystems, management of IT-based services, e-government and computer-supported collaboration.
After studying business administration in Saarbrücken, he went on to receive his doctorate there in 1983. Later, he worked as a post-doctoral fellow at the IBM Los Angeles Scientific Center and as an assistant professor (Leonard Stern Graduate School of Business, New York University, and Baruch College, City University of New York). From 1987 to 2002, he held the Chair of Business Informatics at the University of Hohenheim, Stuttgart, and served as Dean of the Department of Economics and Social Sciences from 2000 to 2002. He was appointed to his position at TUM in 2002 and is also a faculty member of the TUM School of Management. He served as Dean of the TUM Department of Informatics from 2010 to 2013. Since 2003, he has been Academic Director of the SAP University Competence Center@TUM. In July 2018, he was elected Vice Dean of the TUM School of Management and Founding Dean of the TUM Campus Heilbronn. He is speaker of the board of directors of fortiss gGmbH.
Awards
1st place in the WirtschaftsWoche ranking of the strongest research professors in business administration in German-speaking countries (2019)
AIS Best Information Systems Publications Award (2017)
IBM Faculty Award (2016)
Fellow of the Association for Information Systems (2016)
Paul Gray Award for the Most Thought Provoking Paper (2015)
Key Publications
Pflügler C, Becker N, Wiesche M, Krcmar H: "Strategies for Retaining Key IT Professionals". MIS Quarterly Executive. 2018; 17(4): 297-314.
Abstract
Wiesche M, Jurisch M, Yetton PW, Krcmar H: "Grounded Theory Methodology in Information Systems Research". MIS Quarterly. 2017; 41(3): 685-702.
Abstract
Schermann M, Dongus K, Yetton P, Krcmar H: "The Role of Transaction Cost Economics in Information Technology Outsourcing research: A Meta-Analysis of the Choice of Contract Type". The Journal of Strategic Information Systems. 2016; 25(1): 32-48.
Abstract
Krcmar H: Informationmanagement. Heidelberg: Springer-Verlag, 2016.
Abstract
Leimeister JM, Huber M, Bretschneider U, Krcmar H: "Leveraging Crowdsourcing: Activation-Supporting Components for IT-Based Ideas Competition". Journal of Management Information Systems. 2009; 26 (1): 197-224.
Abstract