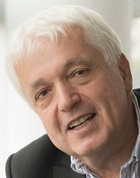 Prof. Dr. Klaus A. Kuhn
Kontakt
Academic Career and Research Areas
Professor Kuhn's research area is digital and translational medicine, with a specific focus on integration and security architectures. He was coordinator of DIFUTURE (www.difuture.de) and participated in CRC 1321, 1371, and in the Cluster of Excellence SyNergy. He is delegate of the TUM President for the digitalization in medicine.
Professor Kuhn holds degrees in computer science, mathematics and medicine (Dipl. Inform., Dipl. Math., Dr. med., Dr. med. habil.) from the Universities of Stuttgart, Freiburg, Tübingen and Ulm. He worked at the University Hospitals of Heidelberg and Ulm. From 1996 to 2004 he held the Chair of the Department of Medical Informatics at the University of Marburg (Philipps-Universität Marburg). In parallel to this he was Chief Information Officer at the University Hospital of Marburg. Between 2007 and 2011 he was president and vice-president of the German Association for Medical Informatics, Biometry and Epidemiology. Professor Kuhn was elected a Fellow of the American College of Medical Informatics (AMIA) in 2008. In 2018 and 2016 prizes were awarded to scientific work of his institute.
Prasser F, Kohlmayer F, Spengler H, Kuhn KA: "A scalable and pragmatic method for the safe sharing of high-quality health data". IEEE Journal of Biomedical and Health Informatics. 2018; 22(2): 611-622.
Abstract
Kohlmayer F, Prasser F, Eckert C, Kuhn KA: "A flexible approach to distributed data anonymization". Journal of biomedical informatics. 2014; 50: 62-76.
Abstract
Wichmann HE, Kuhn KA, Waldenberger M, Schmelcher D, Schuffenhauer S, Meitinger T, Wurst SH, Lamla G, Fortier I, Burton PR, Peltonen L, Perola M, Metspalu A, Riegman P, Landegren U, Taussig MJ, Litton JE, Fransson MN, Eder J, Cambon-Thomsen A, Bovenberg J, Dagher G, van Ommen GJ, Griffith M, Yuille M, Zatloukal K: "Comprehensive catalog of European biobanks". Nature Biotechnology. 2011; 29(9): 795-797. HE Wichmann and KA Kuhn contributed equally to this work.
Abstract
Kuhn KA, Knoll A, Mewes HW, Schwaiger M, Bode A, Broy M, Daniel H, Feussner H, Gradinger R, Hauner H, Höfler H, Holzmann B, Horsch A, Kemper A, Krcmar H, Kochs EF, Lange R, Leidl R, Mansmann U, Mayr EW, Meitinger T, Molls M, Navab N, Nüsslin F, Peschel C, Reiser M, Ring J, Rummeny EJ, Schlichter J, Schmid R, Wichmann HE, Ziegler S: "Informatics and medicine-from molecules to populations". Methods of Information in Medicine. 2008; 47(4): 283-295.
Abstract
Lenz R, Beyer M, Kuhn KA: "Semantic integration in healthcare networks". International Journal of Medical Informatics. 2007; 76(2-3): 201-207.
Abstract