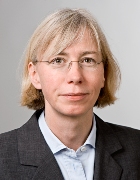 Academic Career and Research Areas
Prof. Lampe (b. 1963) conducts both basic and clinically-applied research for the benefit of persons with disabilities, in particular cerebral palsy (CP). She develops new technology-based concepts and therapies to improve perception, neuroplasticity and motor function. Her basic research uses mathematical models and numerical methods to simulate cerebral blood flow and processes leading to cerebral hemorrhage in preterm infants.

Prof. Lampe studied medicine at the Universities of Heidelberg and Mannheim. After completing her resident training in orthopedics at LMU Munich, she was awarded TUM's scholarship to support woman in earning their postdoctoral teaching qualification. In 2001, she was appointed senior physician at the Clinic for Orthopedics and Sports Orthopedics at the Klinikum rechts der Isar. Since 2012, Prof. Lampe has held the Markus Würth Foundation's Endowed Chair and currently serves as head of the Research Unit of the Buhl-Strohmaier-Foundation for Cerebral Palsy and Pediatric Neuro-Orthopedics.
Awards
Leben pur Foundation Award (2017)
Gips Schüle special research award for social innovation (2015)
TUM IdeAward (2015)
Member of the Order of Merit of the Federal Republic of Germany (2012)
Key Publications
Sidorenko I, Turova V, Botkin N, Eckardt L, Alves-Pinto A, Felderhoff-Müser U, Rieger-Fackeldey E, Kovtanyuk A, Blumenstein T Lampe R: "Modeling Cerebral Blood Flow Dependence on Carbon Dioxide and Mean Arterial Blood Pressure in the Immature Brain With Accounting for the Germinal Matrix." Frontiers in neurology. 2018; 9: 812.
Abstract
Lampe R, Mitternacht J, von Pfister L, Turova V, Blumenstein T, Alves-Pinto A: "Development of congenital clubfoot during growth: a long-term study on the basis of pedobarography, biomechanics, and magnetic resonance imaging measurements of muscle volumes." Journal of Pediatric Orthopaedics B. 2017; 26(2): 122-132.
Abstract
Alves-Pinto A, Turova V, Blumenstein T, Thienel A, Wohlschläger A, Lampe R: "fMRI assessment of neuroplasticity in youths with neurodevelopmental-associated motor disorders after piano training". European Journal of Pediatric Neurology. 2015; 19(1): 15-28.
Abstract
Lampe R, Thienel A, Mitternacht J, Blumenstein T, Turova V, Alves-Pinto A: "Piano training in youths with hand motor impairments after damage to the developing brain". Neuropsychiatric Disease and Treatment. 2015; 2015(11): 1929-1938.
Abstract
Lampe R, Botkin N, Turova V, Blumenstein T, Alves-Pinto A: "Mathematical modelling of cerebral blood circulation and cerebral autoregulation: towards preventing intracranial hemorrhages in preterm newborns". Computational and Mathematical Methods in Medicine. 2014; 2014 (965275).
Abstract