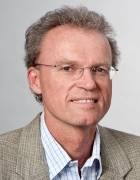 Prof. Dr. Dieter Langosch
Professorship
Professor erimitus since April 1, 2023
Academic Career and Research Areas
The research interests of Prof. Langosch (b. 1958) are centered on the structure-function relationship of integral membrane proteins. The key area of investigation is how the interaction and dynamics of membrane-spanning protein domains regulate biological processes. These can include membrane fusion with neurotransmitter release and intramembrane proteolysis.
Prof. Langosch studied chemistry at Aalen University of Applied Sciences. He obtained his M.S. in biochemistry in Baton Rouge, USA. He completed his doctorate in biology at the University of Heidelberg and obtained his lecturer qualification from the University of Frankfurt. After receiving a Heisenberg grant, he led the "Structural Neurobiology" junior research group at the University of Heidelberg. Prof. Langosch has held a Chair at TUM since 2001. He has worked at the University of California, Irvine, as a visiting professor.
Awards
Speaker of the DFG research unit "Understanding Intramembranproteolysis" since 2015
Chair of the Board of Examiners "studium naturale" 2009 – 2018
Heisenberg Programme of the DFG (1995)
Ph.D. Fellowship of the Chemical Industry Fund (1986)
Fulbright Exchange Fellowship (1984)
Scheidt HA, Kolocaj K, Veje Kristensen J, Huster D, Langosch D: "Transmembrane Helix Induces Membrane Fusion through Lipid Binding and Splay". J Phys Chem Lett. 2018; 9 (12): 3181-3186.
Abstract
Langosch DL, Brosig B et al.: "Dimerisation of the glycophorin A transmembrane segment in membranes probed with the ToxR transcription activator". J. Mol. Biol. 1996; 263: 525-530.
Schanzenbach C, Schmidt FC, Breckner P, Teese MG, Langosch D: "Identifying ionic interactions within a membrane using BLaTM, a genetic tool to measure homo- and heterotypic transmembrane helix-helix interactions". Scientific Reports. 2017; 7 (43476).
Abstract
Langosch D, Scharnagl C, Steiner H, Lemberg MK: "Understanding intramembrane proteolysis: from protein dynamics to reaction kinetics". Trends Biochem Sci. 2015; 40 (6): 318-327.
Abstract
Pester O, Barrett PJ, Hornburg D, Hornburg P, Probstle R, Widmaier S, Kutzner C, Durrbaum M, Kapurniotu A, Sanders CR, Scharnagl C, Langosch D: "The backbone dynamics of the amyloid precursor protein transmembrane helix provides a rationale for the sequential cleavage mechanism of gamma-secretase". J Am Chem Soc. 2013; 135 (4): 1317-1329.
Abstract
Poschner BC, Quint S, Hofmann M, Langosch D: "Sequence-specific conformational dynamics of model transmembrane domains determines their membrane fusogenic function". J. Mol. Biol. 2009; 386 (3): 733-741.
Abstract