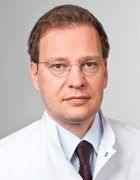 Prof. Dr. Karl-Ludwig Laugwitz
Academic Career and Research Areas
Prof. Laugwitz (*1968) conducts research in the field of stem cell biology and cardiovascular development, working toward regenerative therapy approaches and tissue replacement in cardiology. His research focuses on human pluripotent stem cells (ES cells and iPS cells) for the molecular characterization of heart disease causes and regeneration.
After studying medicine in Berlin and obtaining his doctorate in 1996, he earned his postdoctoral teaching qualification (Habilitation) at the TUM School of Medicine in 2002. Later that year, as a Heisenberg scholarship holder, he attended the Institute of Molecular Medicine at the UC San Diego, where he worked with Prof. K.R. Chien. In early 2005, he was appointed assistant professor at the CVRC of the Massachusetts General Hospital at Harvard Medical School. In 2006, he was appointed to the W2 professorship for cardiology at the Klinikum rechts der Isar. Since 2012, he has been Clinic Director of the Clinic and Polyclinic of Internal Medicine I (Cardiology, Angiology and Pneumology). He is a frequently cited German cardiologist (ISI) with over 240 publications and 8 patents.
Awards
Principal Investigator of an ERC Grant (2011)
Head of DFG Research Unit 923 (2009-2014)
Coordinator of a Marie Curie Excellence Team (2006)
Louis N. Katz Prize of the American Heart Association (2004)
Heisenberg Scholarship of the German Research Foundation (2002)
Key Publications
Dorn T, Kornherr J, Parrotta EI, Zawada D, Ayetey H, Santamaria G, Iop L, Mastantuono E, Sinnecker D, Goedel A, Dirschinger RJ, My I, Laue S, Bozoglu T, Baarlink C, Ziegler T, Graf E, Hinkel R, Cuda G, Kääb S, Grace AA, Grosse R, Kupatt C, Meitinger T, Smith AG, Laugwitz KL, Moretti A: "Interplay of cell-cell contacts and RhoA/MRTF-A signaling regulates cardiomyocyte identity". EMBO J. 2018;37(12).
Abstract
Colleran R, Kufner S, Mehilli J, Rosenbeiger C, Schüpke S, Hoppmann P, Joner M, Mankerious N, Fusaro M, Cassese S, Abdel-Wahab M, Neumann FJ, Richardt G, Ibrahim T, Schunkert H, Laugwitz KL, Kastrati A, Byrne RA; ISAR-CABG Investigators: "Efficacy Over Time With Drug-Eluting Stents in Saphenous Vein Graft Lesions." J Am Coll Cardiol. 2018; 71:1973-1982.
Abstract
Moretti A, Bellin M, Welling A, Jung CB, Lam JT, Bott-Flügel L, Dorn T, Gödel A, Höhnke C, Hofmann F, Seyfarth M, Sinnecker D, Schömig A, Laugwitz KL: "Patient-specific induced pluripotent stem cell models for long-QT syndrome". N Engl J Med. 2010; Epub Jul 21.
Abstract
Moretti A, Caron L, Nakano A, Lam J, Chen Y, Qyang Y, Sasaki M, Yunfu S, Evans S, Laugwitz KL, Chien KR: "Multipotent embryonic Isl1+ progenitor cells lead to cardiac, smooth muscle, and endothelial cell diversification". Cell. 2006; 127: 1151-1165.
Abstract
Laugwitz KL, Moretti A, Lam J, Gruber P, Chen Y, Woodard S, Lin LZ, Cai CL, Lu M, Reth M, Platoshyn O, Yuan J, Evans S, Chien KR: "Postnatal Isl1+ cardioblasts enter fully differentiated cardiomyocyte lineages." Nature. 2005; 433: 647-653.
Abstract